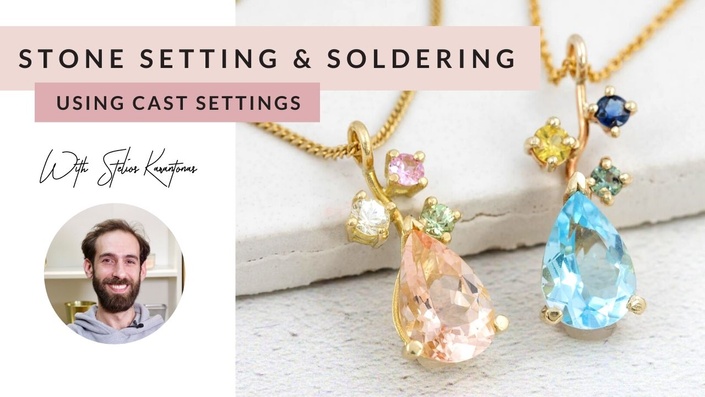 Stone Setting & Soldering: Using Cast Settings
Take your first steps into fine jewellery, using cast settings to create & set stunning designs
Enrol in Course
Learn how to create jewellery from cast settings

This course uses bought cast settings in a way that is fantastic if you have a jewellery business
Taught by expert jeweller, Stelios Karantonas, in this courses you will learn to:

How to use multiple cast settings to design a piece of jewellery
Solder multiple pieces together create a piece
Claw set gemstones of different shapes including pear shaped and brilliant cut using pre-made claw settings
Work with gold and silver
Projects in this course include making a ring and a pendant
But what are cast settings and why would you use them? 🤔
Good question!
Many professional jewellers use cast settings in their work. These are pre-made gemstone settings in gold or silver that can be soldered in place on your jewellery designs. Using these settings will cut the time it takes you to make a piece meaning you can adjust your pricing and make your piece more affordable.

All of these techniques take time and practice and in this in-depth video course we have 7 lessons to guide you through the process which you can re-watch as many times as you like to perfect the skills and master the techniques.
If you love working in metal and would like to add a new skill to your stone setting then this is the perfect next step to take.

What Will You Get?

Lifetime access to comprehensive video lessons, guiding you through all the techniques, tips and tricks
Downloadable course notes to work alongside the videos
Access to our supportive community of jewellers and tutors to help you at every stage of the process
Access to the videos 24/7 - you can stop, pause, rewind and replay as much as you like
Excellent close-up shots to see what is happening in each step so you don't miss a thing

Your Instructor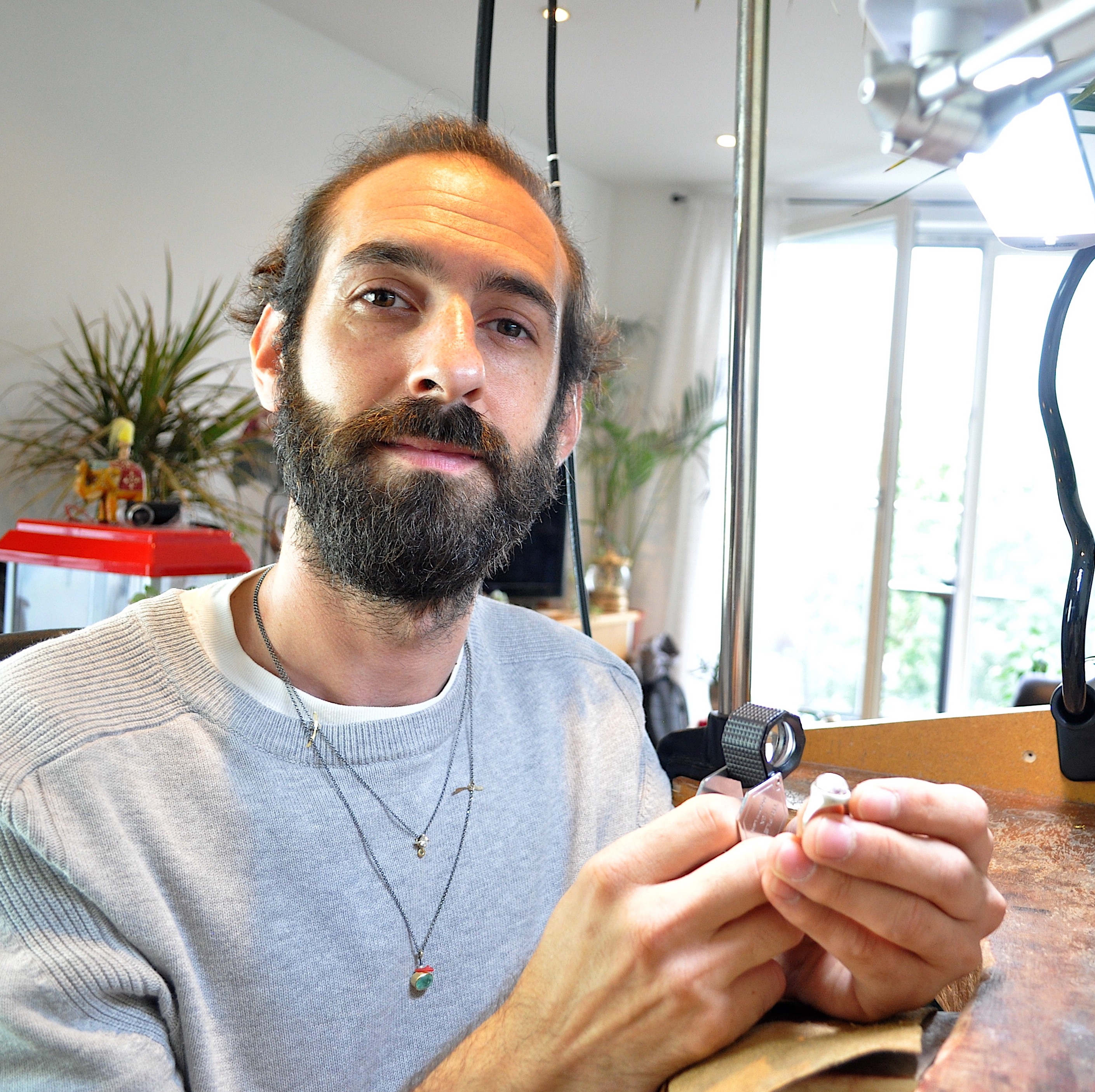 Stelios Karantonas is a Greek designer who lives and creates in London. He found his niche in jewellery manufacturing and design, receiving two scholarships and working as a freelance designer/maker in Thessaloniki and Athens, Greece.
Stelios created his own brand in London in 2014. All his pieces are hand-made in his Hatton Gardens workshop, where he constantly grows as a designer, working on a variety of gemstones, 9, 18 and 22 Karat Gold and 925 Sterling Silver.
Stelios is a passionate teacher who is extremely giving in sharing his vast knowledge of silver and goldsmithing with budding students.
This course is suitable for jewellers who have experience of working with sheet silver metal and are competent at soldering and basic stone setting.
If you are new to working with silver but would like to give it a try take a look at our beginners course The Silver Jewellery Workshop, the Soldering Masterclass and Stone Setting in Silver first.
We look forward to welcoming you on the course and seeing your new creations soon

Tools, equipment and materials list for this course
Silver jewellery making toolkit and soldering station including a torch with fine control (a professional butane micro torch is a good option), safety goggles, liquid flux (Stelios uses flux soldering liquid with Klein on the label)
A revolving soldering stand is helpful
Technoflux heat insulating paste
Burrs - pointed burr, round burr, cup burr and stone setting burrs the size of your round stones e.g. 3mm, 4mm and 5mm with pin vice handle, dividers
This course covers two projects. A gold pendant and a silver ring. The materials used are:
9ct gold pendant
Gold wire - 0.8mm - 1.2mm thick (depending on your design)
11x8mm pear shaped collet/basket and gemstone
3.5mm brilliant cut stone and collet/basket
3mm brilliant cut stone and collet/basket
9ct gold solder - easy, medium and hard
(In the example Stelios used a pear shaped blue topaz and different colours of sapphire)
Sterling silver ring
In this example Stelios made a sterling silver ring. You could also use the instructions to work in gold
1 x 5.5mm round stone and cast collet setting
2 x 3.5mm round stones and cast collet setting (Stelios used white sapphires)
Sterling silver ring band. You can purchase this in the correct size or make your own
Silver solder - easy, medium and hard
Suppliers
Euro Findings, 26-27 Antwerp House Kirby St London EC1N 8TE 020 7404 5762 https://www.eurofindings.com/
We got all of our collet/basket findings from Euro Findings.You can register for an account with them as a jeweller
H S Walsh, 44 Hatton Garden London EC1N 8ER, 020 7242 3711 www.hswalsh.com
We got all of our gemstones for this course here
You can source the collet findings from other suppliers worldwide and in the course Stelios covers what to do if the stone is too small or too big for the setting.