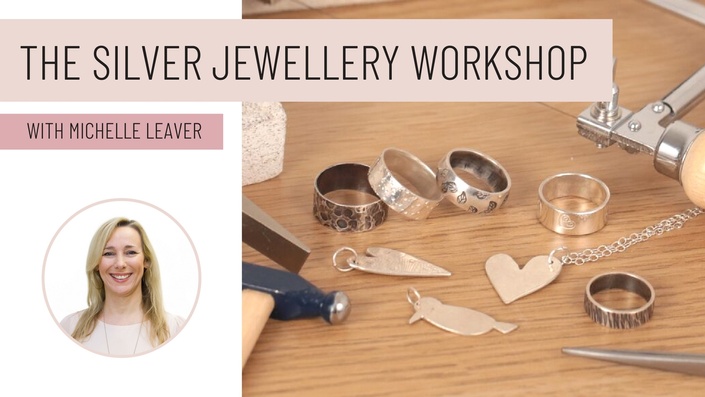 The Silver Jewellery Workshop
Make soldered silver rings, pendants and charms from home with this complete starter course in silversmithing
Watch Trailer
Enrol in Course
Course Description:

If, like us you love silver jewellery and would like to learn to make it like the professionals using traditional methods, then The Silver Jewellery Workshop is for you. Our expert tutor, Michelle Leaver will guide you through all the basics from setting up your home jewellery workshop to working with sheet metal, soldering, texturing, filling, polishing and finishing and much more. This is a beginners level class although it is recommended that you take the 'Make a Silver Ring' course before in order to get the best out of this course.
By the end you will have two pieces of handmade silver jewellery, a soldered, textured ring and a silver cut-out charm or pendant for a necklace. You don't need lots of fancy tools or equipment. Michelle will show you how to create your pieces with a few tools and materials which we can help you source so that is is easy for you to make and create at home.
What You Can Make
Your Instructor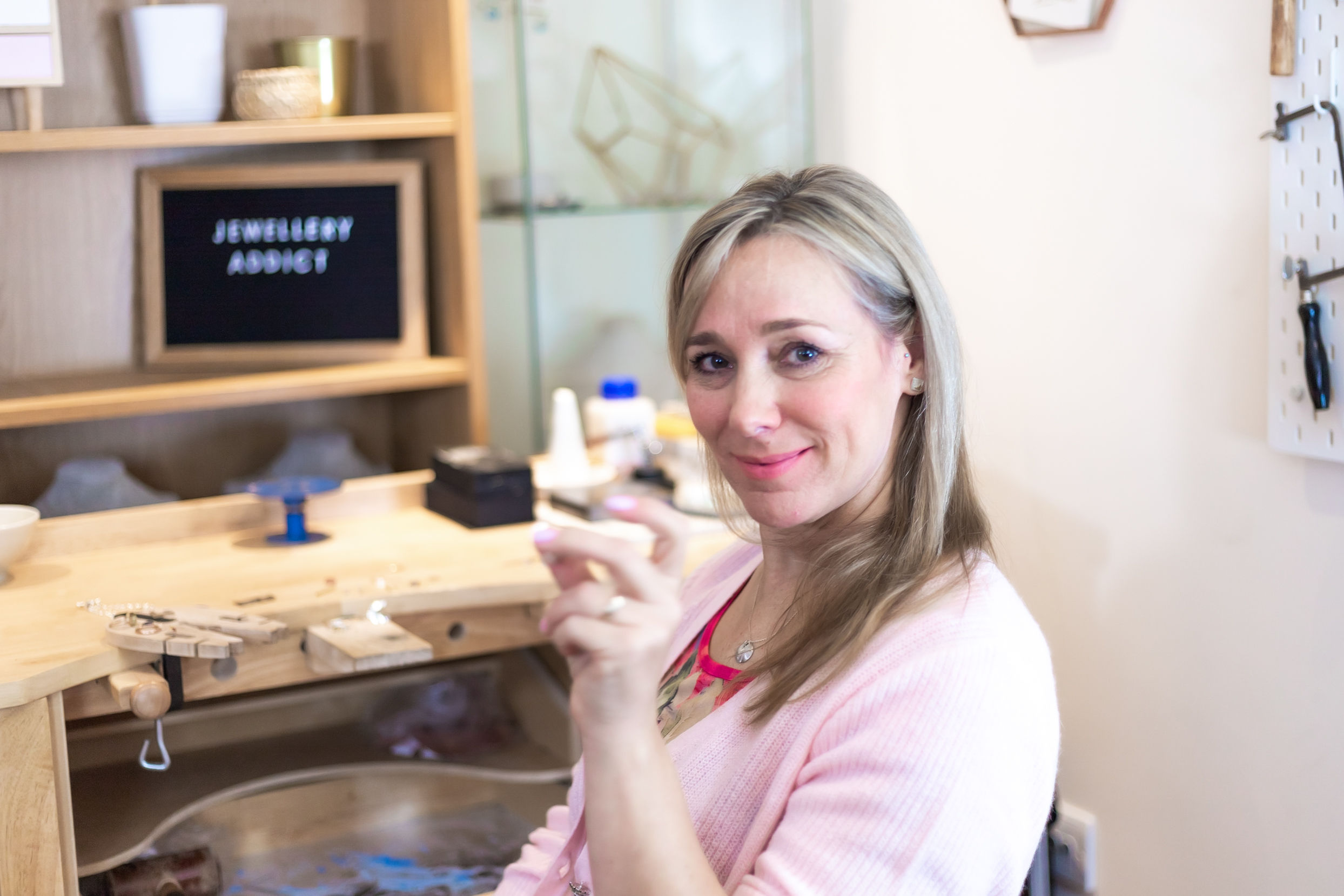 Michelle Leaver is a professional Jeweller who has successfully run her own business designing and making jewellery for over 25 years. She studied design at the London College of Fashion before specialising in Silversmithing and Enamelling at the London Guildhall University (now known as the London Metropolitan and formally known as Sir John Cass.)
She specalises in silversmithing, enamel and jewellery business support and is a regular and popular teacher here at Jewellers Academy.
Course Curriculum
The Silver Jewellery Workshop with Michelle Leaver
Available in days
days after you enroll
Course Feedback
Available in days
days after you enroll
Tools and Materials
Essential Tools
Bench Peg (or jewellers workbench)

Jewellers/ Piercing Saw

Saw Blades (Grade 3.0)

Ruler

Brass Tweezers (or plastic)

Hand Torch & Gas

Heatproof fire brick (for firing on)

Borax cone and dish (or other form of flux)

Small paintbrush

Selection of pliers – half-round, flat nosed, round-nosed

Ring sizer

Ring mandrel

Metal scriber

Large half-round file

Half-round needle file

Mallet leather hide (for shaping the ring, it doesn't dent the metal)

Solder probe

Tin snips

Emery papers and or emery stick (recommended grades 400, 800 and 1200)

Safety pickle

Centre punch

Hand Drill
Optional
Beeswax (optional for lubrication to the saw blade)

Safety Googles (advised)

Additional files: large flat file, Needle files (half round, safety back – like a rooftop & round)

Reverse action pliers

Polishing cream and cloth

Silver 6mm jump ring and silver chain to finish
Materials
Hard silver solder

Silver Sheet: Recommended 1mm thick 3cmx3cm for silver pendant and 1.2mm thick, 0.8-1.2mm wide and 7-9cm long (depending on your ring size) piece for your silver ring.
Suppliers
To source your tools and materials, take a look at our list of worldwide jewellery suppliers https://www.jewellersacademy.com/jewellery-supplie...

Student work
See some beautiful pieces made using this course by the wonderful Helen Stephens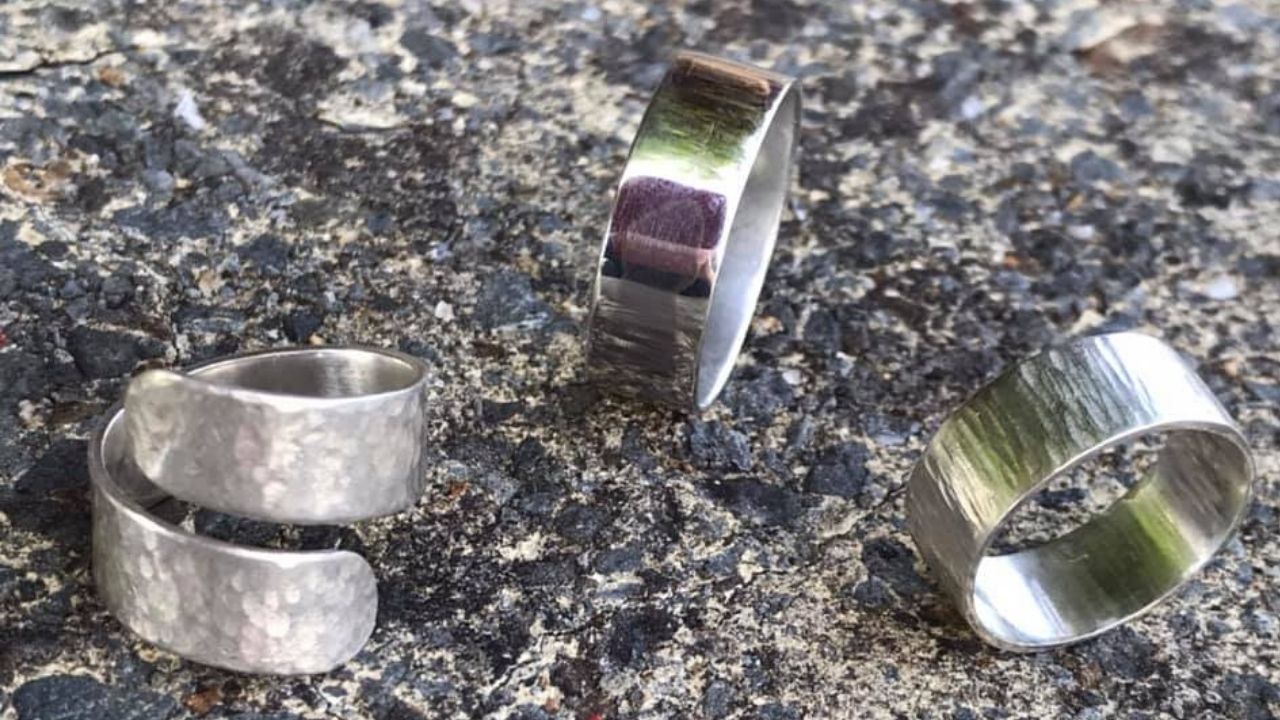 Enrol today and get started making your own masterpieces...

Purchase this course or get access to all of our individual making courses as part of Makers Membership. Learn more here