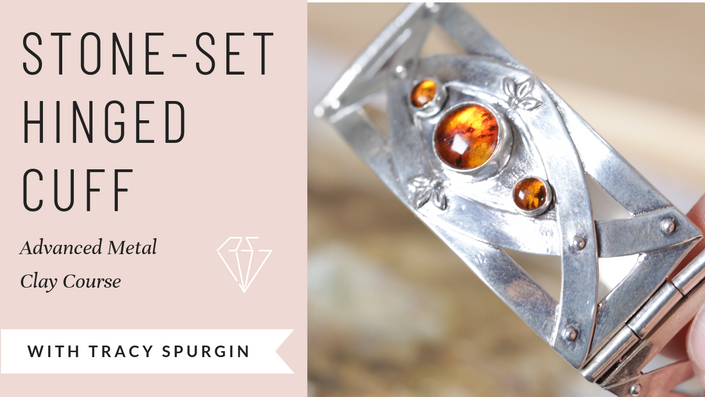 Stone Set Hinged Cuff
Learn a whole range of techniques in one project, hinges, stone setting, bracelet making and more in this advanced metal clay course
Learn how to create a hinged stone set bangle from silver clay.

This is a fantastic project created for Jewellers Academy by metal clay jewellery artist Tracey Spurgin.

In this online course Tracey takes you through lots of techniques for working with metal clay including:
Working with Sterling Silver Clay
Creating Hinges in Silver Clay
Connecting components with rivets
Bezel Setting non-fireable gemstones
Making a Bracelet Clasp
All of these techniques take time and practice and in this in-depth video course we have 6 lessons to guide you through the process which you can re-watch as many times as you like to perfect the skills and master the techniques.

If you love metal clay or want to add a new dimension to your work this is the perfect course to take your collections and skills to the next level.

What Will You Get?

Lifetime access to comprehensive video lessons, guiding you through all the techniques, tips and tricks to perfecting your stone setting
Downloadable course notes to work alongside the videos
Access to our supportive community of jewellers and tutors to help you at every stage of the process
Access to the videos 24/7 - you can stop, pause, rewind and replay as much as you like
Excellent close-up shots to see what is happening in each step so you don't miss a thing

Your Instructor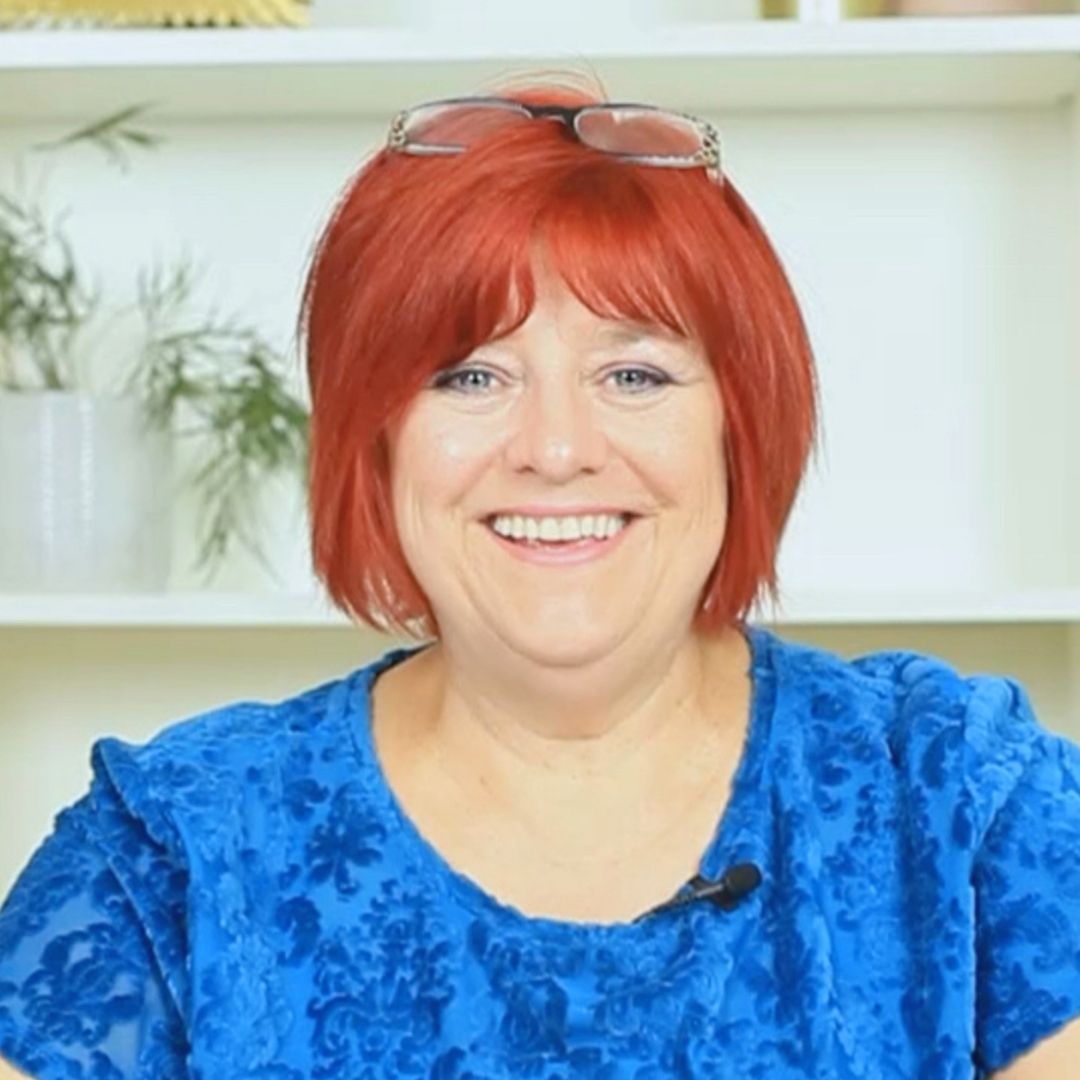 Tracey Spurgin is a qualified Senior Art Clay & PMC instructor having completed courses with Art Clay World UK, PMC Connections & Rio Rewards in America.
With more than 18 years teaching experience, Tracey teaches in her own studio as well as travelling extensively in UK and Europe to deliver courses, workshops & master classes in colleges, museums, galleries & shops, as well as featuring on Jewellery Maker TV. Tracey also exhibits at all the major crafting, jewellery & beaders events
Tracey will inspire your imagination and instil the passion and the enjoyment for working with metal clay.


This course is suitable for jewellers who have some experience of working with metal clay and you will need access to a kiln for firing the sterling silver clay.
If you are new to working with metal clay but would like to give it a try take a look at our beginners course Silver Clay Charms and the Stone Setting in Silver Clay (torch fired techniques)
We look forward to welcoming you on the course and seeing your new creations soon.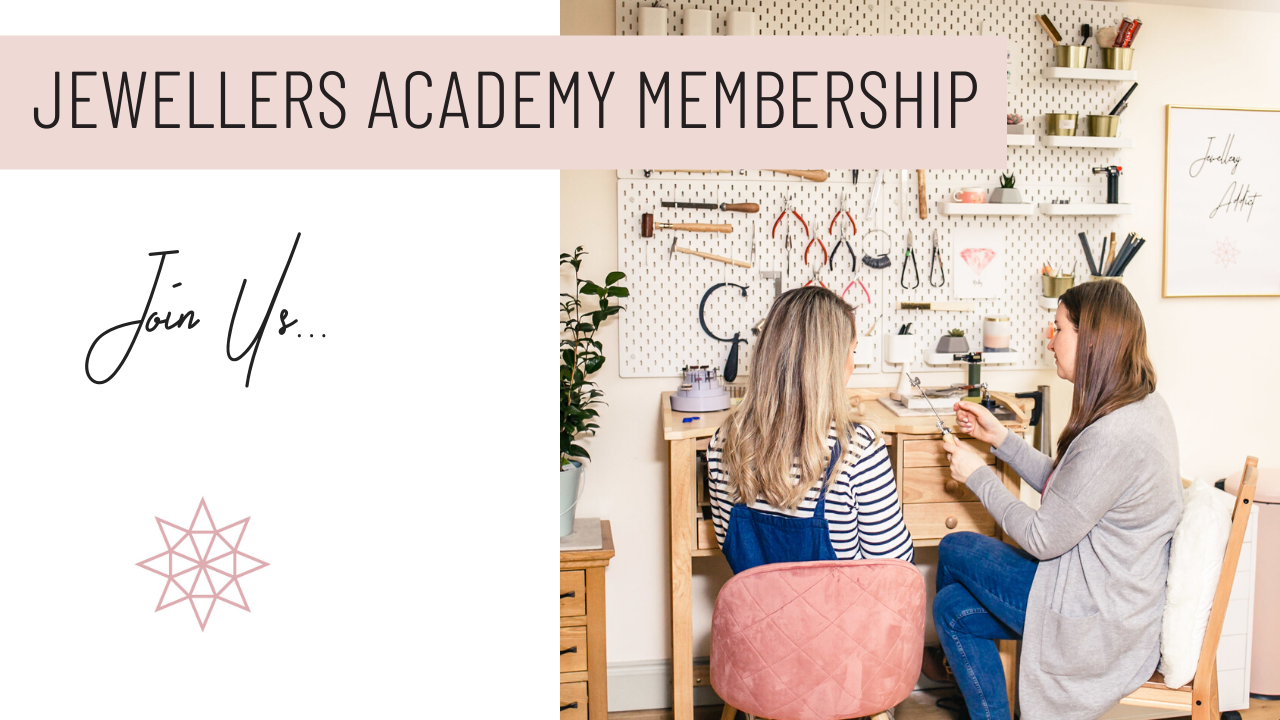 Jewellers Academy is an online resource for jewellers founded by Jessica Rose, Director of the London Jewellery School, Europe's largest jewellery training provider.
Jewellers Academy membership gives you access to a library of jewellery business resources including the jewellery photography course, create an irresistible jewellery brand and more as well as monthly masterclasses, a thriving community, exclusive discounts and an access-all-areas pass to our online jewellery making courses.
It is the complete package of support and training for jewellery designers.
Choose annual membership which includes all of the above plus the flagship 8-week Jewellery Business Bootcamp (worth £977) for 2020 all for £425.
Or choose to pay £49 per month (cancel at any time, there is no minimum commitment) which includes all of the above except the Jewellery Business Bootcamp.
Just want access to this course? No problem!