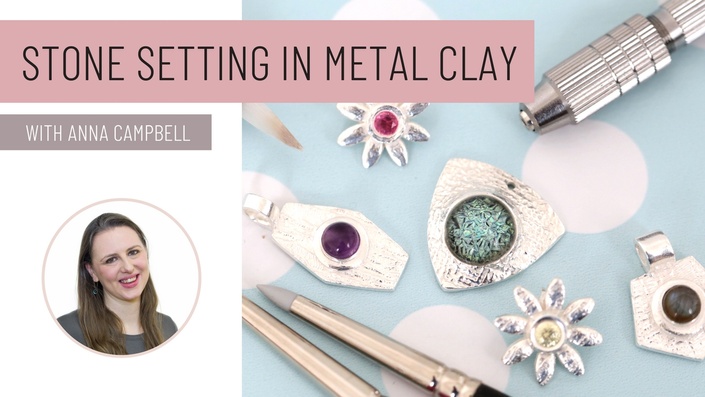 Stone Setting In Metal Clay (Torch Fire Techniques)
Learn how to set CZ stones, glass and cabochon settings for natural stones all with basic torch firing techniques
Watch Trailer
Course Details:
Learn to set gemstones, glass and diamond-shaped stones in your metal clay jewellery, with this brilliant new intermediate-level stone setting course...
Silver metal clay is a magical material that allows you to make solid silver jewellery without saws, hammers and heavy equipment. In this course, designer jeweller and tutor Anna Campbell will guide you through three beautiful stone set projects to make yourself.
Stone setting adds a whole new layer of depth and excitement to your metal clay work and in this course Anna will teach you; how to set glass pieces in metal clay and safely fire them without damaging or cracking the glass piece. You will also learn some top tips for setting CZ's in small multi-layered pieces followed by a project using a bezel cup to set a natural stone which cannot be fired and therefore needs to be set after torch firing the piece. And finally, Anna will show you how to make finished pieces ready to wear or sell as part of a jewellery business.
What you can make: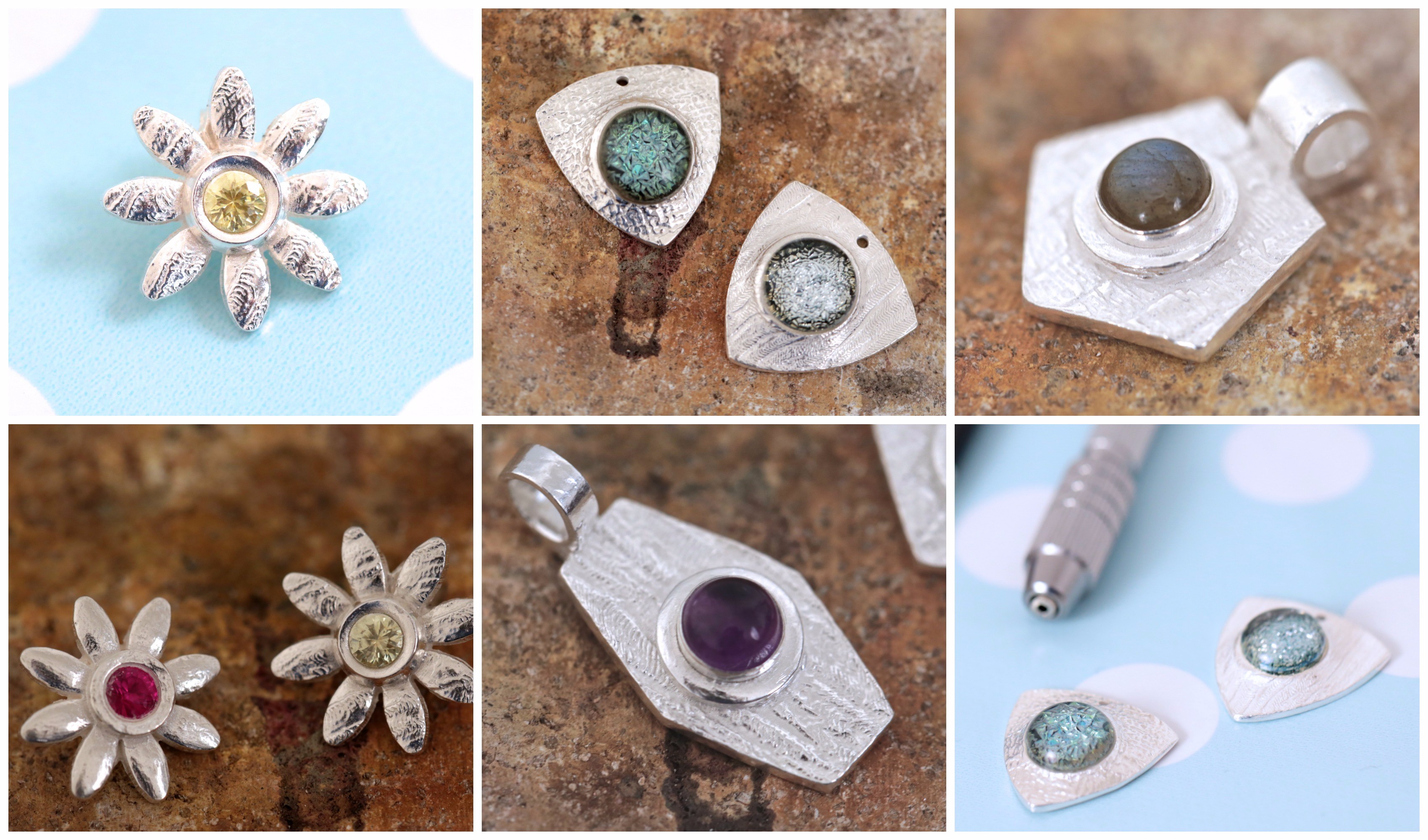 Techniques Covered

Setting natural stones using a bezel
Setting a glass cabochon in a metal clay piece
Setting CZ stones in a multi-layer piece
Using paste to join multiple layers
Torch firing all three pieces, including techniques for torch firing the glass.
Creating a variety of bails and pendant backs
Using stencils to create versatile designs
Polishing and finishing your pieces
Techniques to apply these you tour own designs and make professional jewellery from home.
And much more
Tools & Materials
Essential Materials
Approx. 10g silver clay per project (x 3 projects)
Silver clay paste (small amount)
1 x 6mm plain round fine silver bezel cup
1 x 6mm round cabochon (with a flat back)
1 x dichroic glass cabochon
1 x 3mm cubic zirconia
Essential Tools:

Laminated mat
Acrylic roller
Playing cards or spacers set
Badger balm or olive oil
Texture mats
Cutters/stencil sheet
Tissue blade
Drinking straw
Needle tool
Water brush/paintbrush
Cocktail sticks
Pin vice drill
Sanding sponge
Set of polishing papers
Sponge
Easy leave polythene sheet
Steel burnisher
Tools and Materials for Firing:
Butane torch
Firing block
Wooden handled cross lock tweezers
Piece of thinfire shelf paper (for firing glass piece)
Fibre blanket
Wire rack
Bowl and tap water (note, this is for health and safety. Stone set pieces should not be quenched, they should cool naturally before polishing)
3 minute timer
Optional Tools and Materials:
Spray water bottle
Hotplate or mug warmer
Safety goggles (essential if you don't have glasses)
Small pin vice hand drill (approx. 1.2mm drill bit)
Additional fire mat
Teflon sheet
Rubber block
105 MINUTES - 7 LESSONS - UNLIMITED ACCESS - COURSE NOTES INCLUDED - WORLD RENOWNED TUTORS
Your Instructor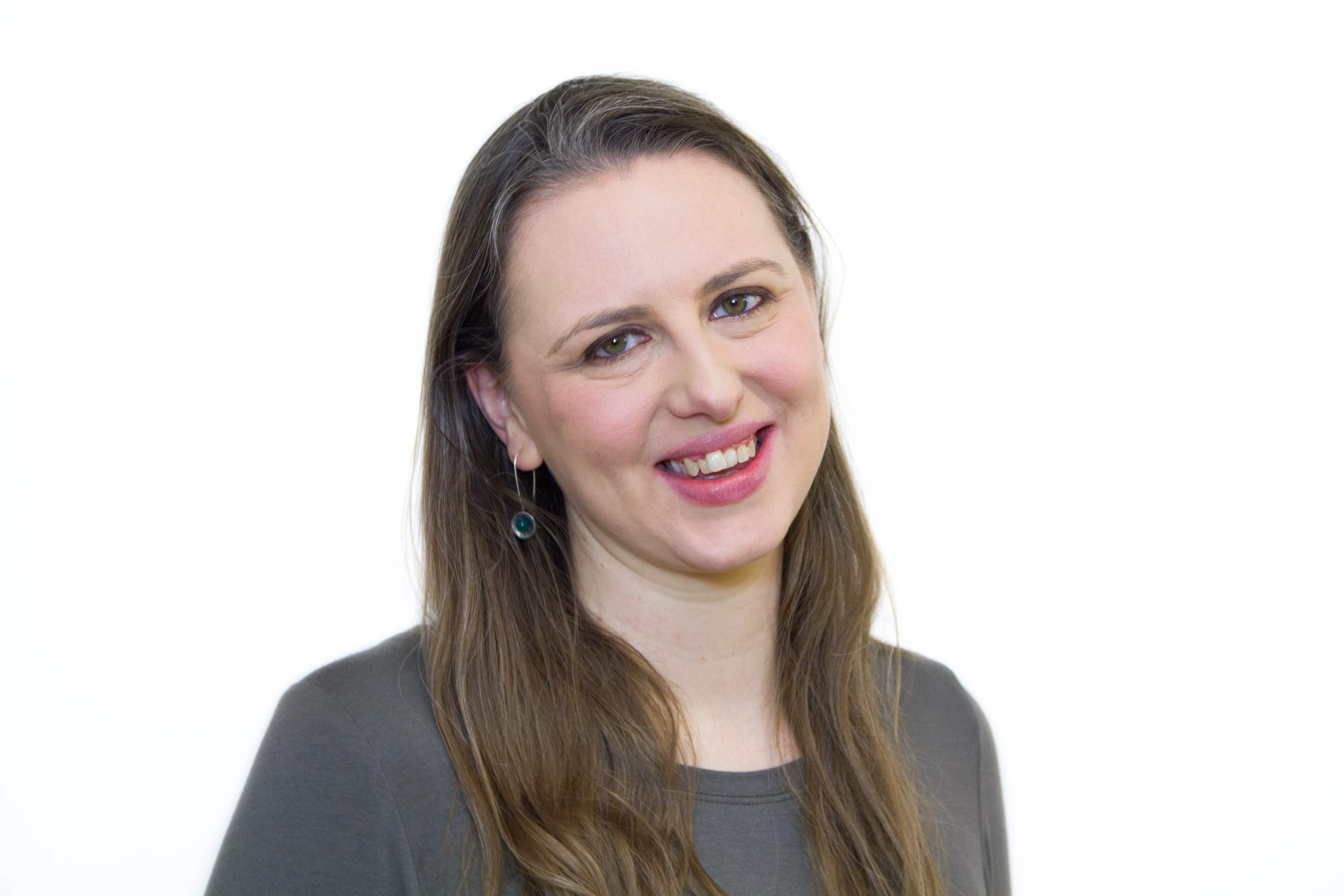 Anna Campbell is a metal clay artist. She holds both the Art Clay and PMC Rio Rewards certifications as well as being one of only ten people to hold the higher diploma in metal clay from the Mid Cornwall School of Jewellery.
She is a member of the Enamellers Guild and the Metal Clay Masters Registry and is currently working towards her masters accreditation.
Anna is a PGCE certified teacher and is very experienced, teaching at various levels including degree courses, since 2000. She now teaches part time and runs her own jewellery business, selling her work online and in boutiques in London.
Anna regularly writes for the London Jewellery School blog and has been featured in Good Housekeeping and Make and Sell Jewellery magazine.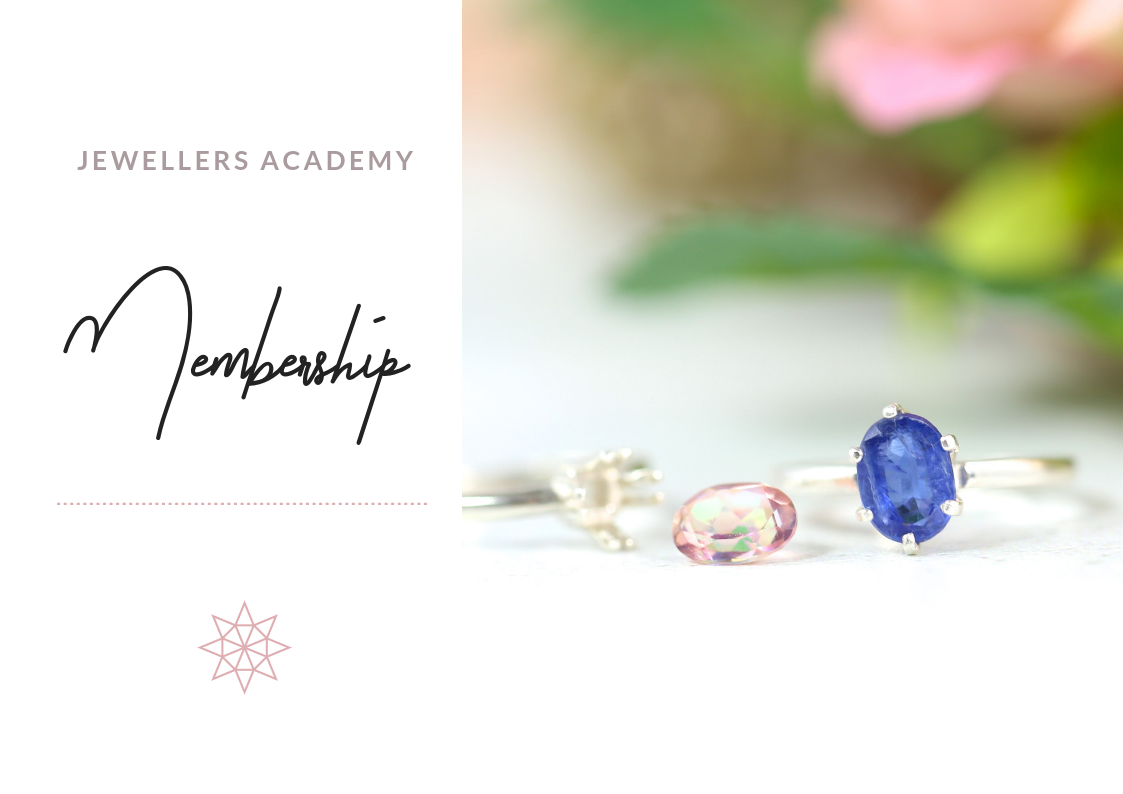 Before you enrol on this course did you know that if you join Jewellers Academy membership you get access to ALL of our online jewellery making AND specialist jewellery business courses? Member benefits include
All current online courses including the 8-week Jewellery Business Bootcamp PLUS all the courses planned for the year including intermediate silver jewellery, stone setting shaped cabochons, stone setting in wax and collet setting
Monthly online masterclass
Monthly live Q&A where you get your questions answered
Exclusive Facebook community of like-minded jewellers
Exclusive discounts including for the London Jewellery School, Cookson Gold and more
You can get all of this, INCLUDING this course, for £365 for annual membership or you can choose the monthly payment option of £39 per month
(For our US friends £39 is $50 US approx. £365 is $476 US approx. The exact cost in any currency other than GB pound depends on the exchange rate at the time of purchase. You will see the cost in your currency before you process the payment)
Just want this course? No problem! Click below to enroll on the course now and get instant access.