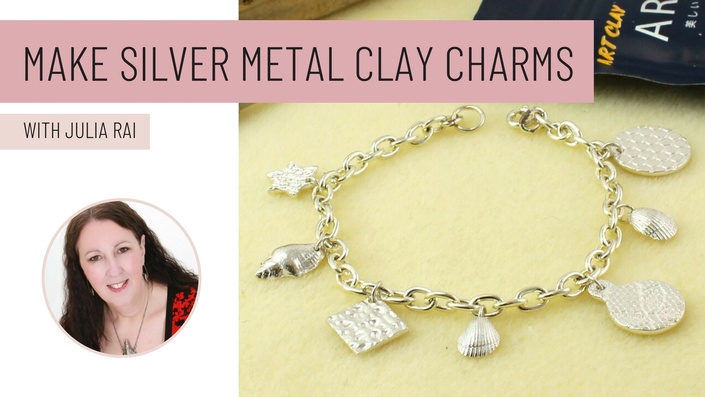 Make Silver Metal Clay Charms
Make beautiful solid silver jewellery from home with this beginners metal clay course from Julia Rai
Watch Trailer
Introduction
Silver metal clay is a magical material that allows you to make solid silver jewellery from the kitchen table. Learn from one of the world's greatest metal clay jewelers and tutors Julia Rai in this fun and informative course.
What is metal clay?
It is a clay-based substance, containing millions of tiny silver particles. You can shape it like you would clay or a soft plasticine but after firing it with a small kitchen hand torch, all of the clay burns away leaving you with a solid silver piece that is hallmark quality. It's amazing!
Throughout the 5 lessons you will learn to roll-out and texture the clay, make moulds to create 3D charms, dry, sand, drill and torch fire your clay before polishing them to a beautiful shine. Julia will also introduce you to patinas and using a solution called liver of sulphur to create contrast in your finished pieces.
This class is perfect for beginners wanting to learn the basics of working with silver metal clay and to make some lovely solid silver charms from home.
What you can make

Techniques covered
Introduction to metal clay and tools/ materials needed
Rolling out and texturing the clay
Mould making for metal clay
Sanding and drilling
Torch firing metal clay
Creating silver metal clay charms
Polishing and finishing
Adding patinas using liver of sulphur
And more
Tools & Materials
Essential
Silver metal clay: either Art Clay Silver or PMC3 (Julia uses 10g of Art Clay Silver to make approx. 3 charms)
Acrylic roller
Pack of playing cards or acrylic spacers
Work mat (can just be a laminated piece of card or any plastic bendy surface)
Mini cookie cutters
Texture plates or textured surfaces such as wall paper cuttings or fabric off-cuts
Clingfilm
Small drinking straws or hand-drill
Cocktail sticks
Small pot of water
Badger balm or olive oil
Emery board or nail buffer
Kitchen paper towel
Silver jump ring (size 7mm) x 1 for each charm
2 flat pliers (chain nosed or flat nosed)
Hand torch (with gas)
Fire brick
Steel Tweezers
Pyrex bowl of water
Timer (or watch/ phone stopwatch)
Brass brush
Optional
Spray water bottle
Hotplate or mug warmer
Safety goggles (essential if you don't have glasses)
Liver of sulphur
Small pin vice hand drill (approx. 1.2mm drill bit)
2 part silicone moulding compound (for making 3D charms)
Additional fire mat
Egg timer
Wire mesh shelf
Agate burnisher or steel burnisher
48 MINUTES - 5 LESSONS - UNLIMITED ACCESS - COURSE NOTES INCLUDED - WORLD RENOWNED TUTORS
Your Instructor
Julia Rai is an award winning jeweler and one of the most experienced and qualified metal clay teachers in the UK. She has a Diploma in Art and Design and holds a range of metal clay qualifications as well as an adult education teaching qualification. Her work has been featured in numerous publications and exhibitions worldwide.
She has achieved the Metal Clay Masters Registry credential at Level IV and was the first person in the world to attain this level.
When not making, Julia runs the Metal Clay Academy, an online resource for everyone interested in metal clay and is a regular contributor to a number of UK and International jewellery making magazines. She is also co-director of the Cornwall School of Art, Craft and Jewellery and teaches metal clay related subjects all over the UK. Her teaching style is relaxed and supportive and she loves to introduce beginners to this incredible material.
Reviews
'Clear - a great beginners guide to silver clay - everything you need to make your own pieces'
- Kay McNamee
'Fantastic value, enjoyed absolutely everything about it'
- Debra Allen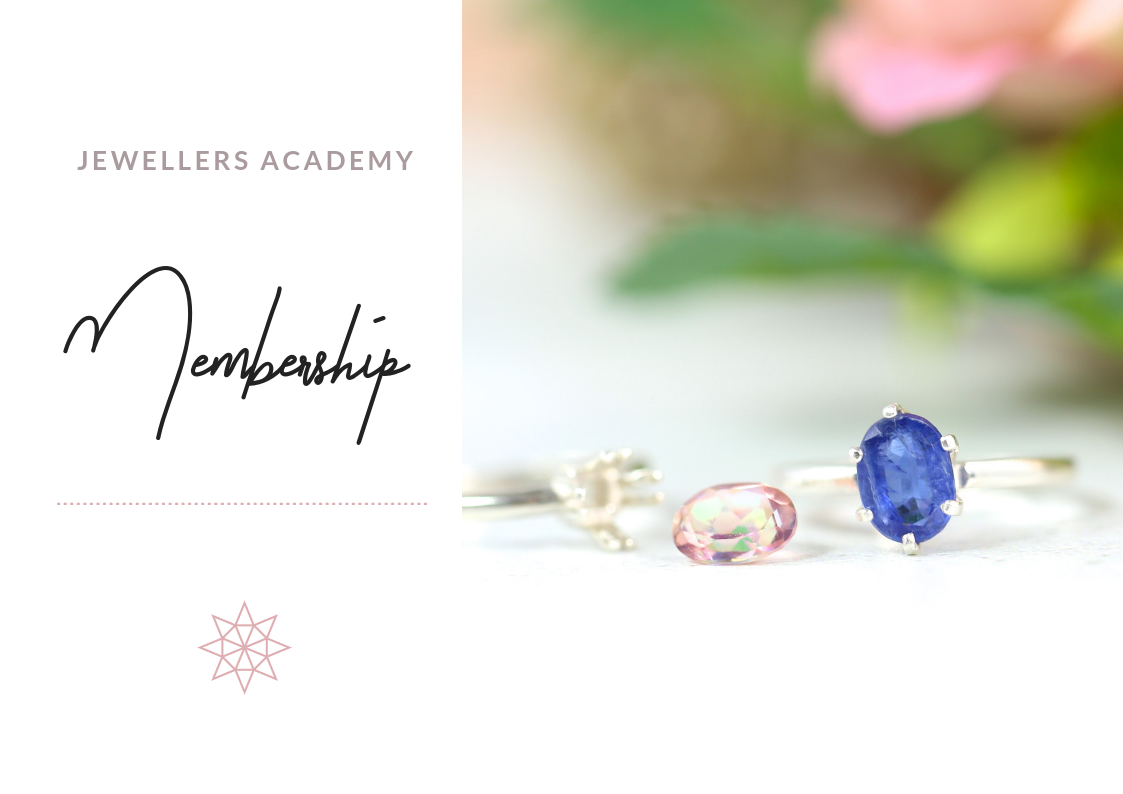 Before you enrol on this course did you know that if you join Jewellers Academy membership you get access to ALL of our online jewellery making AND specialist jewellery business courses? Member benefits include
All current online courses including the 8-week Jewellery Business Bootcamp PLUS all the courses planned for the year including intermediate silver jewellery, stone setting shaped cabochons, stone setting in wax and collet setting
Monthly online masterclass
Monthly live Q&A where you get your questions answered
Exclusive Facebook community of like-minded jewellers
Exclusive discounts including for the London Jewellery School, Cookson Gold and more
You can get all of this, INCLUDING this course, for £365 for annual membership or you can choose the monthly payment option of £39 per month
(For our US friends £39 is $50 US approx. £365 is $476 US approx. The exact cost in any currency other than GB pound depends on the exchange rate at the time of purchase. You will see the cost in your currency before you process the payment)
Just want this course? No problem! Click below to enroll on the course now and get instant access.