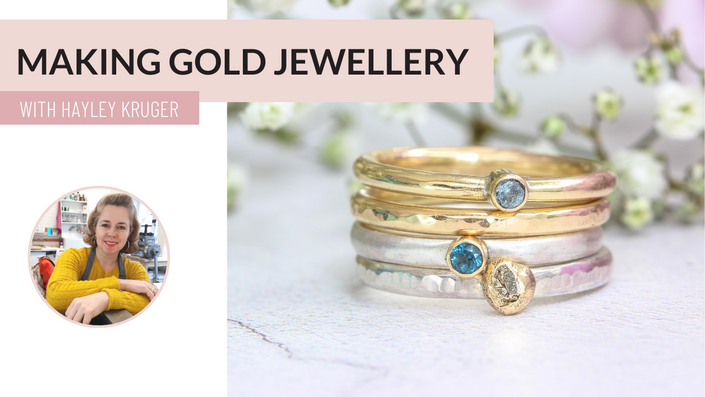 Making Gold Jewellery
Learn to make professional gold jewellery from start to finish with this wonderful progression course
Enrol in Course
Are you ready to start working with gold?
This brand new course covers lots of techniques to help you design and make gold and mixed metal rings. Taught by expert jeweller, Hayley Kruger, you will learn how to make:

Gold band ring made from 9K yellow gold round wire

Hammered yellow gold ring

Sterling silver ring with gold nugget embellishment

Gold tube set faceted stone on a sterling silver ring
This course is for you if you have some experience of working with silver and are ready to learn to add gold to your skills!
What Will You Get?

Ongoing access to comprehensive video lessons, guiding you through all the techniques, tips and tricks
Downloadable course notes to work alongside the videos
Full list of kit and materials you need to create these gorgeous designs
Access to our supportive community of jewellers and tutors to help you at every stage of the process
Access to the videos 24/7 - you can stop, pause, rewind and replay as much as you like
Excellent close-up shots to see what is happening in each step so you don't miss a thing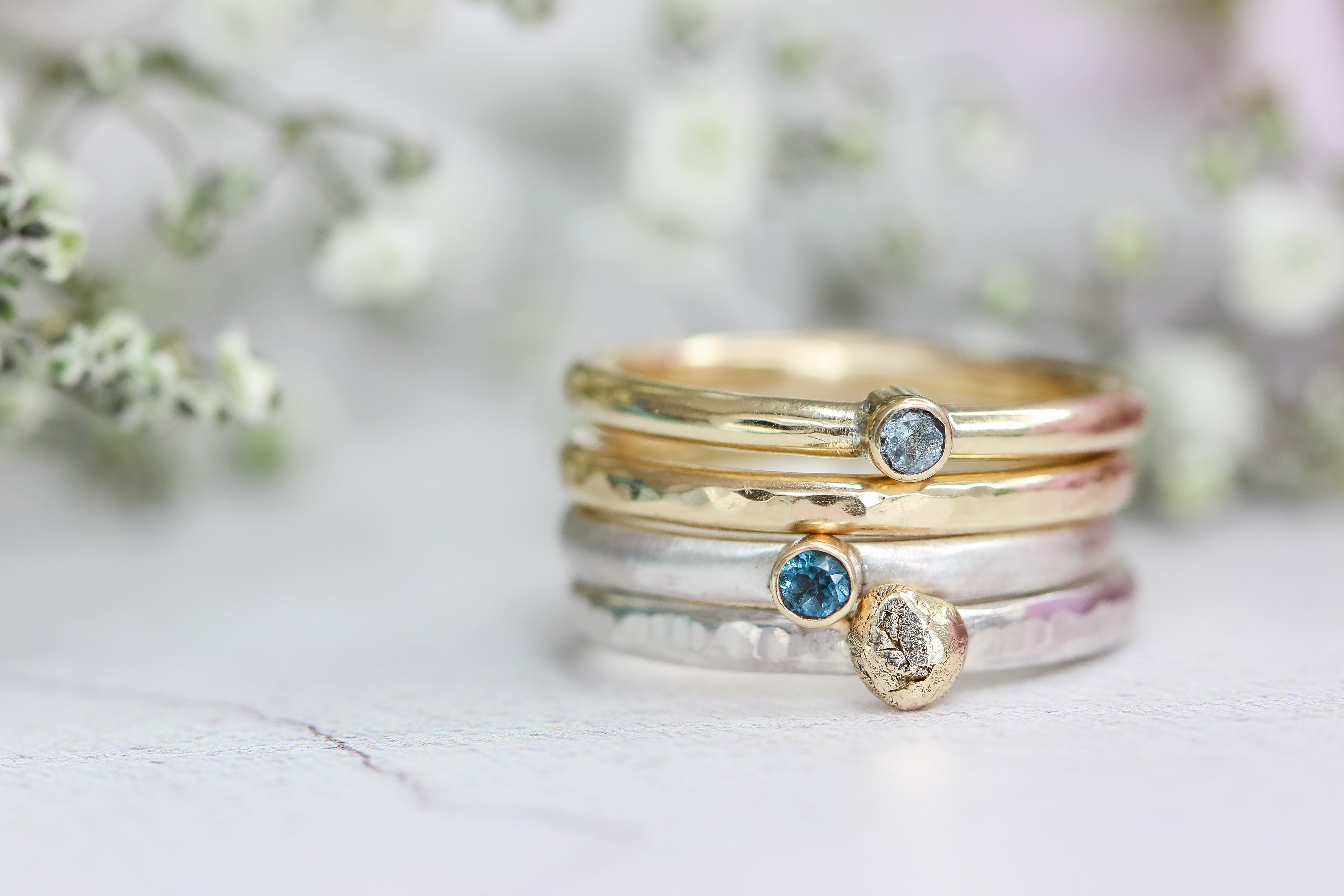 Your Instructor

Hayley Kruger is a South African raised, UK based designer. After completing a degree in Silversmithing, Jewellery and Allied Crafts, Hayley went on to design costume jewellery for many of the UK's High Street's most recognizable names such as Marks and Spencer, River Island, Morgan, Next and Lola Rose.
She is skilled in a vast range of jewellery making skills from traditional benchwork through to using leather, suede and mixed media. The inspiration behind her work stems from the vibrancy of the regions she has lived in and the strong personalities who have influenced her life.
Having always loved making things, whether they be craft, accessories or jewellery, alongside running her business, she regularly teaches at the London Jewellery School to help pass on some of her knowledge and passion for jewellery to others.
This course is suitable for jewellers who have experience of working with sheet silver metal and are competent at soldering and basic stone setting.
If you are new to working with silver but would like to give it a try take a look at our beginners course The Silver Jewellery Workshop, the Soldering Masterclass and Stone Setting in Silver first. You will need some experience of tube and cabochon stone setting to make these pieces.
We look forward to welcoming you on the course and seeing your new creations soon
Tools
Silver jewellery tool kit including bench peg, saw, needle files, steel block, chasing hammer (for hammered designs)
Soldering equipment including torch, soldering block, pickle, steel block, third hand
Stone setting - stone setting burr the same size as your stone, pin vice handle, square pusher, curved or straight burniser
Do you need different tools for working with gold?
No, you can use the same tools as you use for working with silver