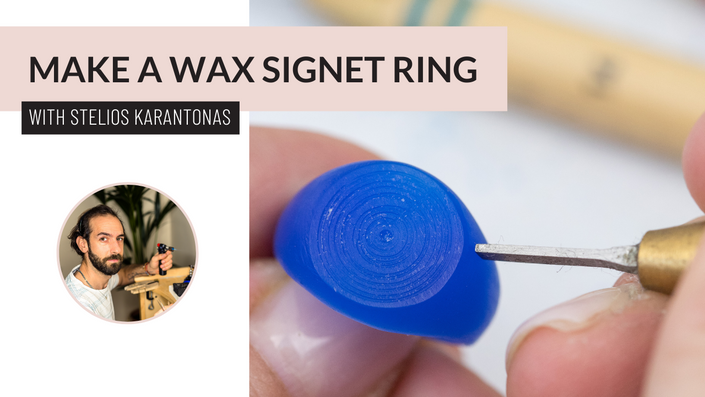 Make a Wax Signet Ring
Learn how to make a signet ring from wax which can be cast into any metal in this FREE mini-course
Join us for this FREE Make a Wax Signet Ring mini-course to help you develop your skills in wax carving. Wax is an accessible technique that allows you to create designs that would be difficult to make using traditional silver techniques.
WHY WAX?
Wax is so flexible - you can make one-off bespoke pieces or whole collections. Wax carving is also a very affordable way to work with gold as you only use the exact amount of metal that you need.
THE CASTING PROCESS:
Once you have made the original wax piece you take it/send it to your local 'casters to be cast into the metal of your choice! AND you can have as many copies as you like! Perfect for running a jewellery business as you can make pieces and collections that can be cast many times over.
Take a look below at some of the process for creating your own wax signet ring designs ...

If you would love to open up your jewellery design possibilities then this is the perfect course for you. Our lovely tutor Stelios Karantonas will guide you through this signet ring project from the wax through to the finished cast ring.
You will learn to apply your designs to your wax piece, remove excess wax and size your ring. Following that, Stelios will show you how to file your wax piece into shape, remove any file marks and sand and refine the piece ready for casting.
What Techniques are covered?
Designing a signet ring in wax
How to carve your wax and prepare it for casting
How to carve your own unique design in the wax
How to clean up and polish your cast ring
& more
Note: this project is suitable for beginners. However, you may want to take our FREE Make a Wax Carved Ring course first, where you will learn how to make a more simple carved ring band.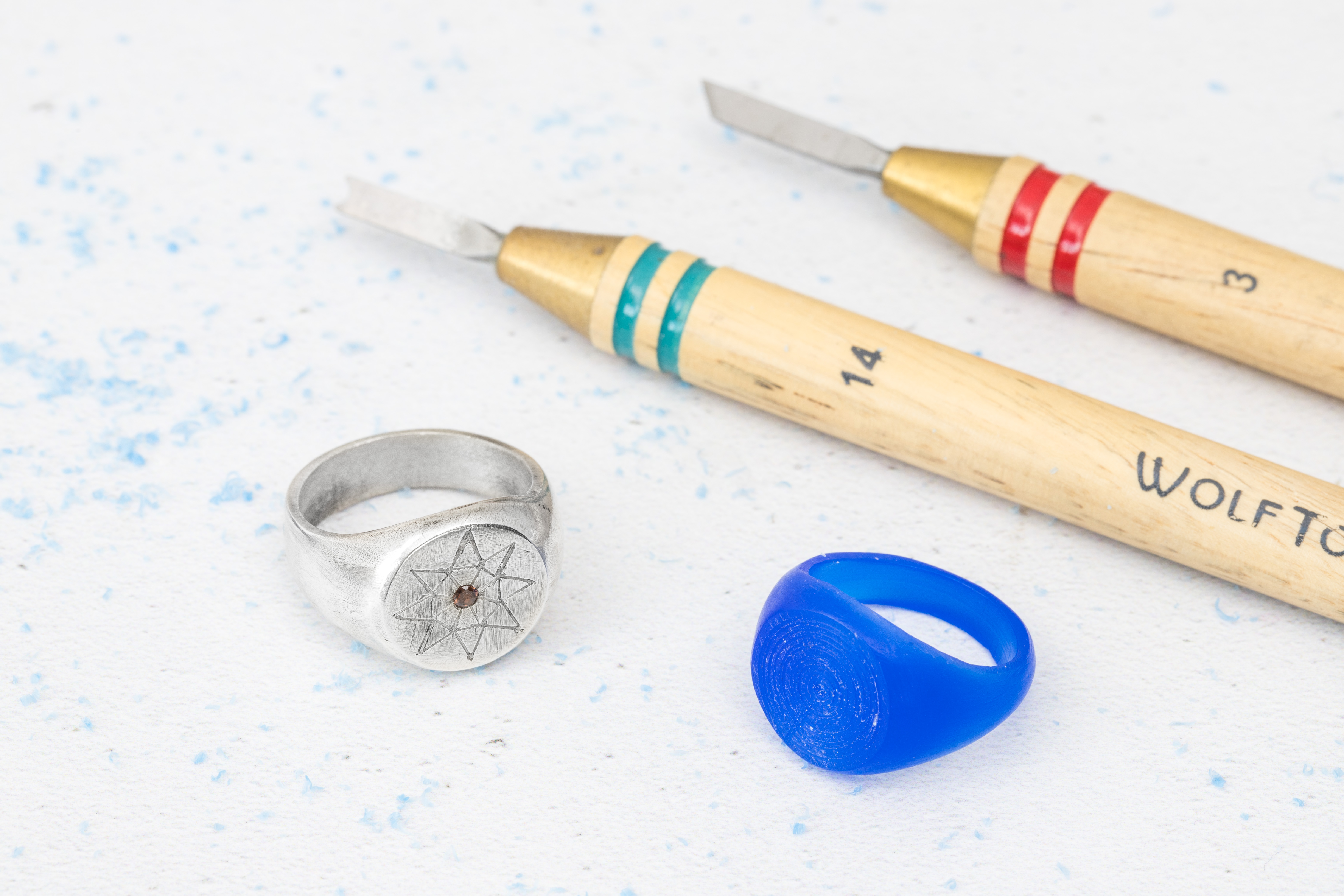 Your Instructor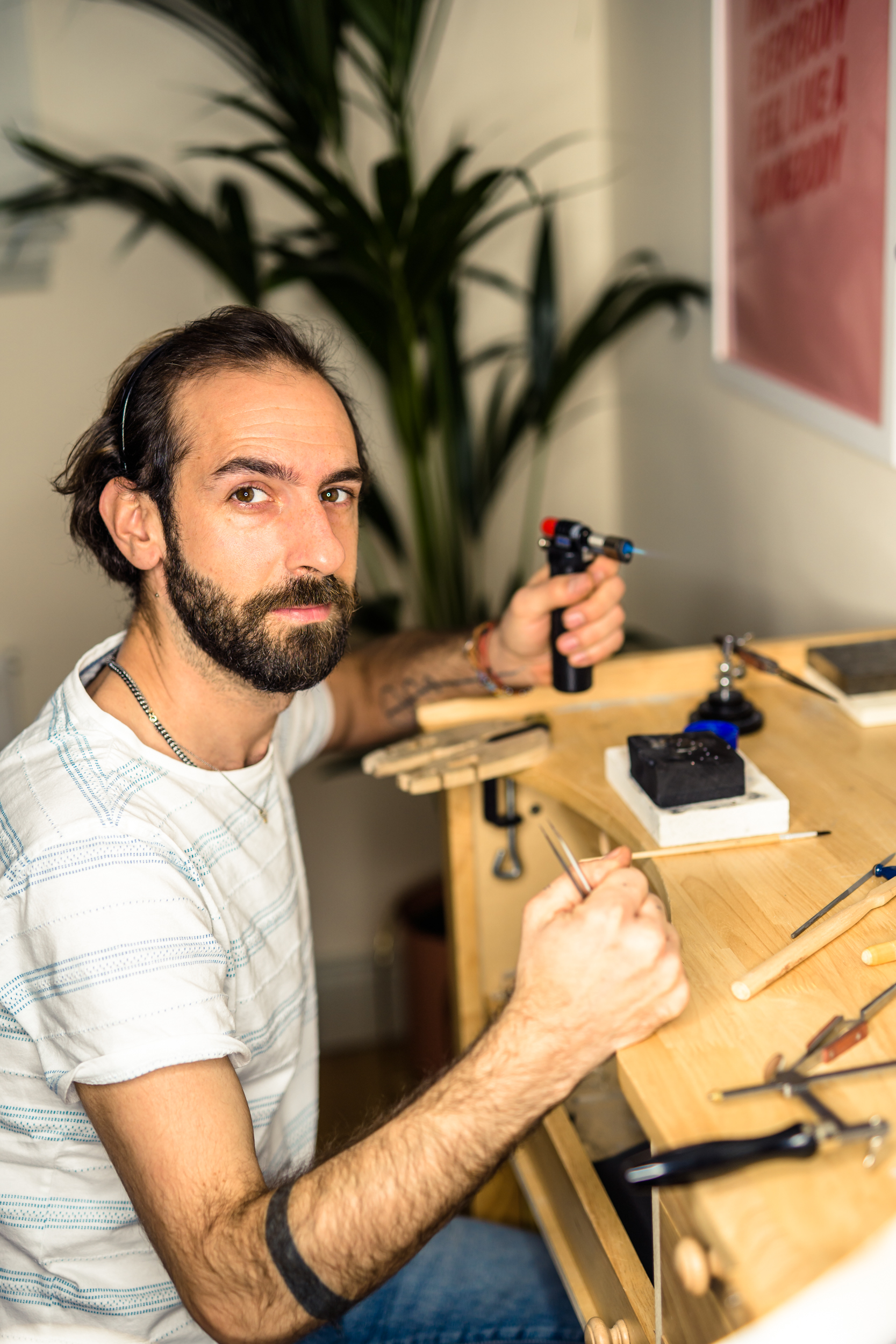 Stelios Karantonas is a Greek designer who lives and creates in London. He found his niche in jewellery manufacturing and design, receiving two scholarships and working as a freelance designer/maker in Thessaloniki and Athens, Greece.
Stelios created his own brand in London in 2014. All his pieces are hand-made in his Hatton Gardens workshop, where he constantly grows as a designer, working on a variety of gemstones, 9, 18 and 22 Karat Gold and 925 Sterling Silver.
Stelios is a passionate teacher who is extremely giving in sharing his vast knowledge of silver and goldsmithing with budding students.
Course Curriculum
Make a Wax Signet Ring - With Stelios Karantonas
Available in days
days after you enroll
Course Feedback
Available in days
days after you enroll
Your Next Course
Available in days
days after you enroll
Tools & Materials Needed:
Tools
Bench peg

Piercing saw with wax saw blade

Ruler

Sandpaper 60, 130, 800 and 1000

Wax ring sizer mandrel/professional wax ring stick

Pair of dividers

Double-ended wax file

Polishing equipment of your choice (Stelios uses Pendant motor or Dremel with scotch brite pendant wheel but the piece can be hand polished)

Safety glasses

Optional: Wolf wax carving tools
Materials
Ferris flat-sided wax tube, blue
Suppliers
Find a list of jewellery suppliers and casting companies here
This course includes:
4 Bite-sized video Lessons
A complete set of downloadable course notes
Tools and materials list
Support in the Facebook group
Sign up below to get started making with us right away!
Join our community of jewellery makers and get excellent training and support for your learning. Sign up to a course today :-)