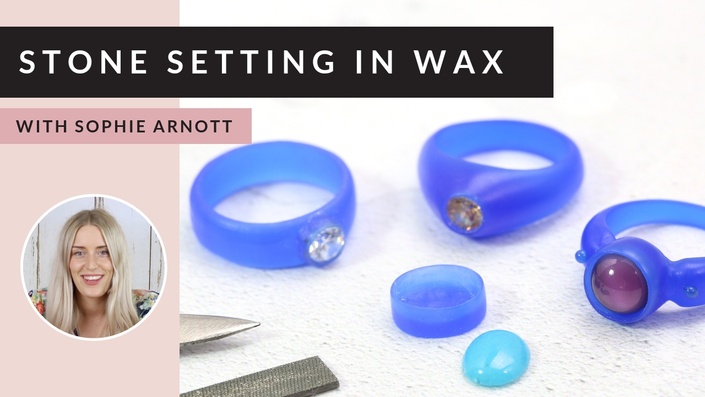 Learn how to add gemstones to your own jewellery designs in wax which can then be cast into silver, gold, rose gold or other metals!

Join us for this intermediate online course to help you develop your skills in wax carving. Wax is an accessible technique that allows you to create designs that would be difficult to make using traditional silver techniques.
WHY WAX?
Wax is so flexible - you can make one off bespoke pieces or whole collections. Wax carving is also a very affordable way to work with gold as you only use the exact amount of metal that you need.
THE CASTING PROCESS:
Once you have made the original wax piece you take it/send it to your local 'casters' to be cast into the metal of your choice! AND you can have as many copies as you like! Perfect for running a jewellery business as you can make pieces and collections that can be cast many times over.
If you haven't tried wax carving before why not take our FREE wax carved ring class. You'll be ready to start stone setting in no time!
Take a look below at some of the pieces you could create...

If you are ready for the next challenge then this is the perfect course for you. Our lovely tutor Sophie Arnott will guide you through how to carve wax designs for faceted and cabochon stone settings.
You will learn to apply your designs to your wax piece, remove excess wax and create a seat for your exact stone. Following that, Sophie will show you how to file your wax piece into shape, remove any file marks and sand and refine the piece ready for casting.
What Techniques are covered?
Designing a piece of jewellery in wax
Faceted stone setting in wax
Tube setting in wax
Cabochon stones in wax
How to carve your wax to fit your exact stone (particularly useful for irregular shaped stones)
Ring making and making a setting for soldering onto a pendant/bracelet etc
How to prepare your wax piece for casting
How to set your stones once the cast metal is returned
& more
Note: this course is suitable for those that have some wax carving experience. We recommend that you have taken our Beginners Wax Carving course or can work at that level before starting on this course.
Your Instructor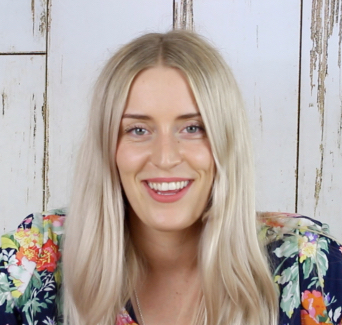 Sophie Arnott is an experienced designer/ maker with her own jewellery brand (Anvil & Ivy Jewellery) she teaches at the London Jewellery School studios in Hatton Garden as well as at her own workshop.

Tools & Materials Needed:
Wax (type depends on your design)
Cutting mat
Sandpaper 400, 600, 800 and 1000
Drill bits and setting burrs (sizes will depend on stone size)
Wax ring sizer mandrel
Ring sizer mandrel
Files - wax files and needle files
Pair of dividers
Sharpie
Scalpel/craft knife
Rubber thimble
Metal ruler
Carving tools
Piercing saw with wax saw blade
3M polishing papers
Pendant motor or Dremel with flex shart attachment
Course Curriculum
Stone Setting in Wax - With Sophie Arnott
Available in days
days after you enroll
This course includes:
5 Bite-sized video Lessons (covering the two stone settings)
A complete set of downloadable course notes
Tools and materials list
Support in the Facebook group
Sign up below to get started making with us right away!
Purchase this course or get access to all of our individual making courses as part of Makers Membership. Learn more here

Join our community of jewellery makers and get excellent training and support for your learning. Sign up to a course today :-)