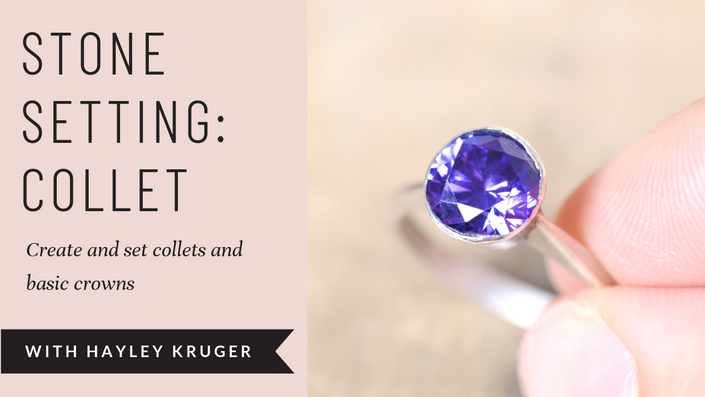 Stone Setting: Collet Setting
Learn two intermediate ways to set diamond shaped stones into metal: Collet and Crown
Learn how to stone-set faceted stones in a silver or metal collet in this wonderful intermediate-advanced stone setting course.
Stone setting is a wonderful technique for jewellers to learn that enables you to add colourful semi-precious or even precious gemstones to your metalwork.

Our experienced tutor Hayley Kruger, will guide you through how to make two key settings from start to finish:
1. Collet Setting: learn how to make your own collet setting to fit your gemstones

2. Crown Setting: learn how to adapt your collet setting into a crown setting.
All of these techniques take time and practice and in this in-depth video course we have 5 lessons to guide you through the process which you can re-watch as many times as you like to perfect the skills and master the techniques.

If you love gemstones or want to add a new dimension to your work this is the perfect course to take your collections and skills to the next level.
What Will You Get?

Lifetime access to comprehensive video lessons, guiding you through all the techniques, tips and tricks to perfecting your stone setting
Downloadable course notes to work alongside the videos
Access to our supportive community of jewellers and tutors to help you at every stage of the process
Access to the videos 24/7 - you can stop, pause, rewind and replay as much as you like
Excellent close-up shots to see what is happening in each step so you don't miss a thing

Your Instructor

Hayley Kruger is a South African raised, UK based designer. After completing a degree in Silversmithing, Jewellery & Allied Crafts, Hayley went on to design costume jewellery for many of the UK's High Street's most recognizable names such as Marks & Spencer, River Island, Morgan, Next and Lola Rose.
She is skilled in a vast range of jewellery making skills from traditional benchwork through to using leather, suede and mixed media. The inspiration behind her work stems from the vibrancy of the regions she has lived in and the strong personalities who have influenced her life.
Having always loved making things, whether they be craft, accessories or jewellery, alongside running her business, she regularly teaches at the London Jewellery School to help pass on some of her knowledge and passion for jewellery to others.

This course is suitable for jewellers who have some experience of working with silver and setting stones. if you are new to silversmithing we would recommend taking the 'Silver Jewellery Workshop' and ideally the 'Soldering Masterclass' first, in order to make the most of this course. And if you are new to stone setting I recommend taking the 'stone setting in silver' before this course too.
As a Jewellers Academy member you will have access to all of these courses.
We look forward to welcoming you on the course and seeing your new creations soon.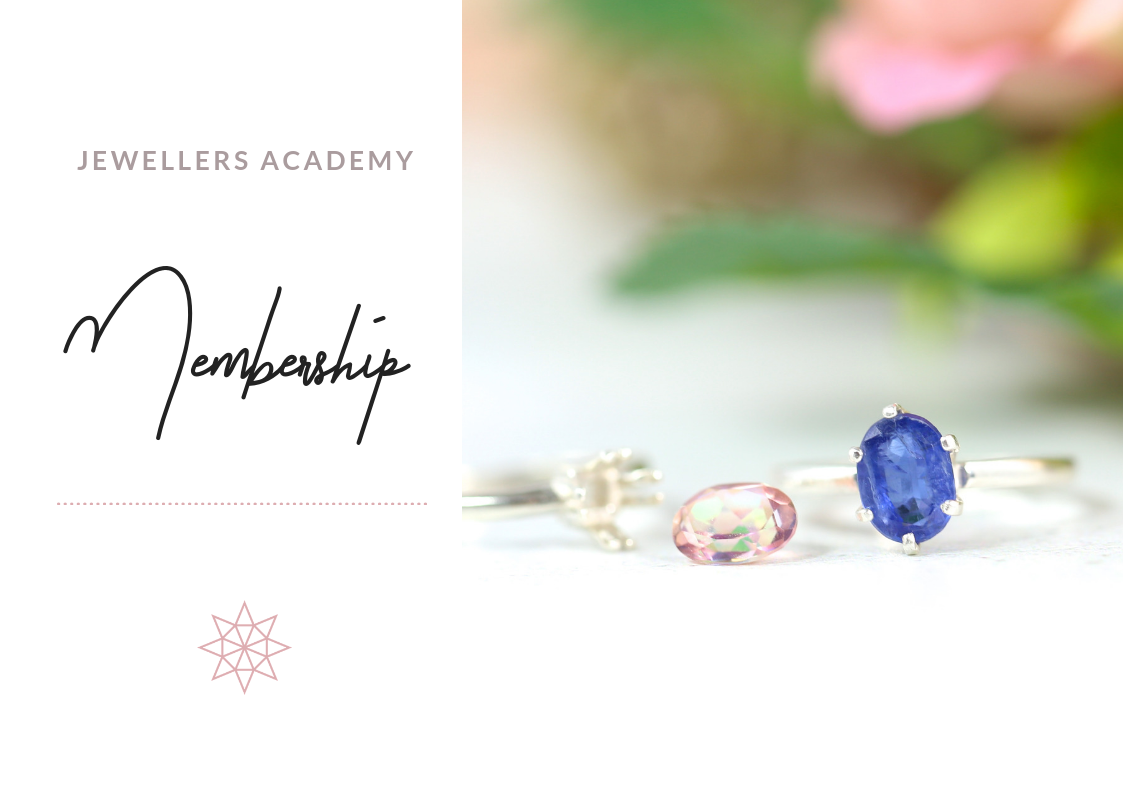 Before you enrol on this course did you know that if you join Jewellers Academy membership you get access to ALL of our online jewellery making AND specialist jewellery business courses? Member benefits include
All current online courses including the 8-week Jewellery Business Bootcamp PLUS all the courses planned for the year including intermediate silver jewellery, stone setting shaped cabochons, stone setting in wax and collet setting
Monthly online masterclass
Monthly live Q&A where you get your questions answered
Exclusive Facebook community of like-minded jewellers
Exclusive discounts including for the London Jewellery School, Cookson Gold and more
You can get all of this, INCLUDING this course, for £365 for annual membership or you can choose the monthly payment option of £39 per month
(For our US friends £39 is $50 US approx. £365 is $476 US approx. The exact cost in any currency other than GB pound depends on the exchange rate at the time of purchase. You will see the cost in your currency before you process the payment)
Just want this course? No problem! Click below to enroll on the course now and get instant access.