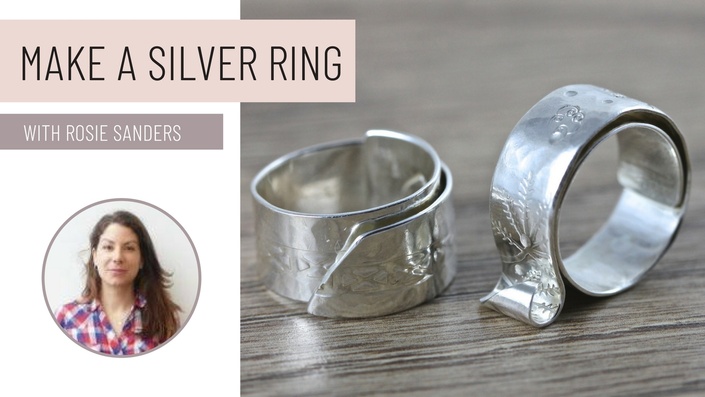 Make a Silver Ring
Yes, you really can make your own silver ring from home! Learn how with this brilliant beginners class
Watch Trailer
Introduction
Yes, you really can make your own silver ring from home! In this fun and comprehensive course, designer jeweller Rosie Sanders will guide you through the whole process from start to finish to make your own wrap-over silver ring.
You start with small sheets of silver, which you then saw in to shape, heat with a small torch, texture and pattern before shaping into the perfect ring to fit any finger size. To finish you will learn all the basics of filing, sanding and polishing your piece to achieve a beautiful shiny silver ring at the end.
This class does require a few more tools and materials than the bead-based classes (see tools required below) but is completely achievable to do from home with Rosie's expert, step-by-step advice and support.
There is no soldering covered in this course as it is making a wrap-over ring, which makes it the perfect starting point for anyone new to jewellery making or ready to try working in silver for the first time.
What you can make
Techniques covered
Loading and using a jewelers saw
Sawing
Using a hand torch
Annealing metal
Texturing silver using hammers and metal punches
Picking, sanding and filing the metal
Shaping and sizing the ring
And polishing with different finishes
Tools & Materials
Essential
A benchpeg
Jewelers/ piercing saw
Saw blades
Strips of silver sheet
Parallel or flat-nosed pliers
Rawhide mallet
Half-round pliers
Steel ring mandrel or triplet
Hand file
Emery paper
Soldering block
Hand torch & lighter fuel (gas)
Tweezers
Slow cooker/ rice cooker or warm water
Safety pickle
Safety goggles/ apron to protect clothes and eyes
Pyrex or heat-proof dish with water
A fairly sturdy table to work from helps!
Optional
Hammers: Jobbing Hammer, riveting hammer, repousse hammer
Metal punches: letter punches or patterned punches
Steel block
Clamp (small or medium sized)
Buff stick with additional emory paper
Larger soldering block/ sheet
Scotch-brite
76 MINUTES - 6 LESSONS - UNLIMITED ACCESS - COURSE NOTES INCLUDED - WORLD RENOWNED TUTORS
Your Instructor
Rosie Sanders is a thorough and enthusiastic tutor who is skilled at explaining metalwork techniques in detail.
Rosie is also a multi talented jewellery designer with her own trail blazing brand of neo-classically inspired luxury jewellery. From scroll medallions to neoclassical knuckledusters, each piece is skillfully hand crafted in London using precious metals, enamel and gemstones.
Rosie trained at the well known Sir John Cass School of Art Media and Design at London Metropolitan University and after winning a series of awards she undertook an 18-month residency in the faculty of jewellery and metal work.
Her hand forged designs have gained wide recognition and her stunning Renaissance Rebel collection is now stocked at the Wallace Collection Museum in London. In 2013 Rosie was one of 10 designers championed as 'talent of the future' by The British Jewellers Association and her work now attracts a celebrity following.
Reviews
'The Make a Silver Ring course was lovely and so easy to understand! I now have a 'dreamy' new ring to show off and i love it. Everyone looking for a beginner course should give it a try, it's less difficult than it may seem,'
- Alejandra Quiroz
'Easy to follow and fantastic tutor'
- Malin Carlberg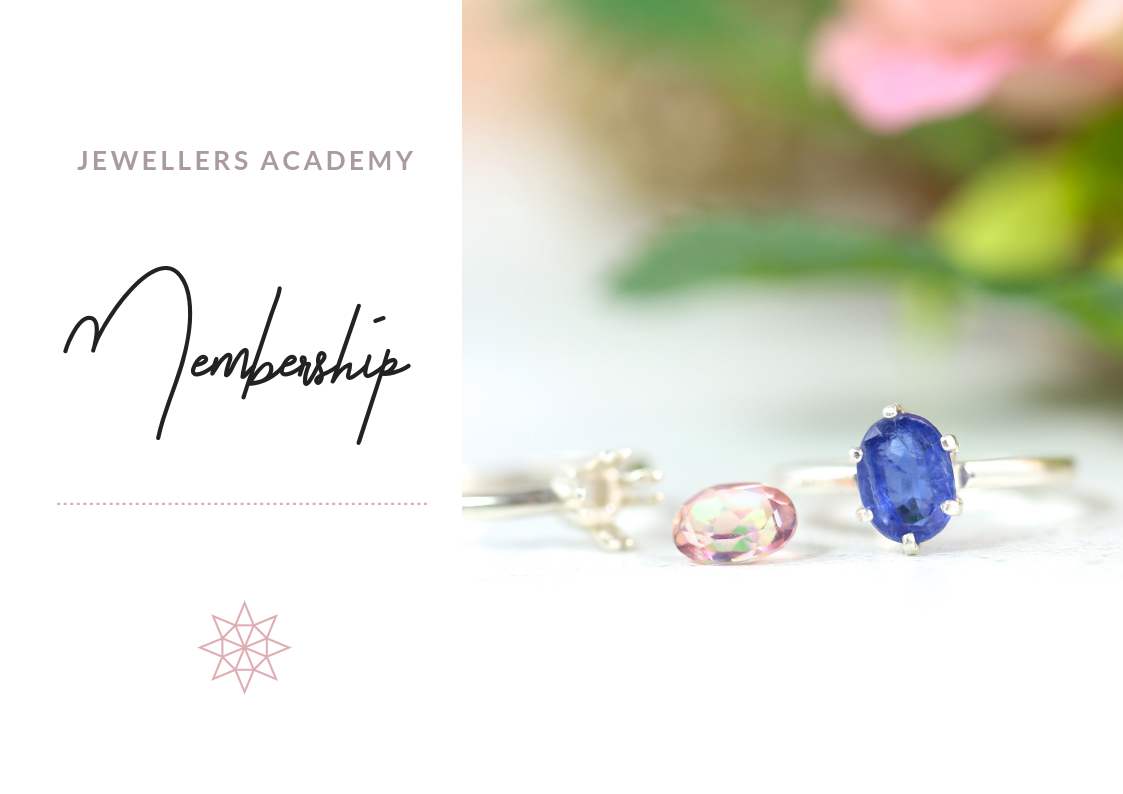 Before you enrol on this course did you know that if you join Jewellers Academy membership you get access to ALL of our online jewellery making AND specialist jewellery business courses? Member benefits include
All current online courses including the 8-week Jewellery Business Bootcamp PLUS all the courses planned for the year including intermediate silver jewellery, stone setting shaped cabochons, stone setting in wax and collet setting
Monthly online masterclass
Monthly live Q&A where you get your questions answered
Exclusive Facebook community of like-minded jewellers
Exclusive discounts including for the London Jewellery School, Cookson Gold and more
You can get all of this, INCLUDING this course, for £365 for annual membership or you can choose the monthly payment option of £39 per month
(For our US friends £39 is $50 US approx. £365 is $476 US approx. The exact cost in any currency other than GB pound depends on the exchange rate at the time of purchase. You will see the cost in your currency before you process the payment)
Just want this course? No problem! Click below to enroll on the course now and get instant access.