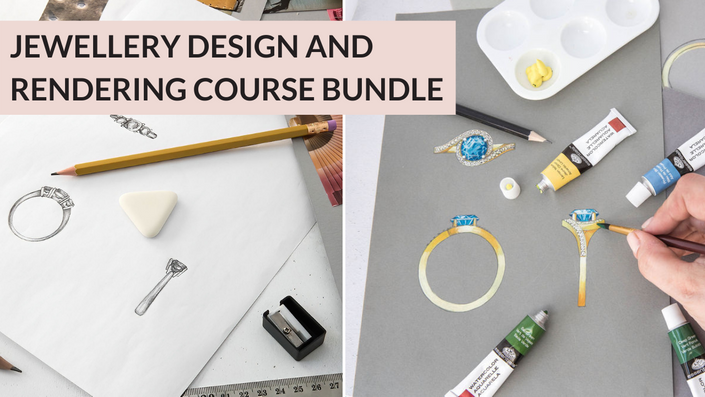 Jewellery Design and Rendering Course Bundle
Take the two courses together and save as part of a bundle
Would you love to work on your jewellery design and rendering including:

How to take an idea and develop into a jewellery collection
How to do technical drawings for commission customers
as well as
How paint your designs in full colour, including metals and gemstones
Then take a look at our Jewellery Design and Rendering Course bundle.
In this bundle you get TWO of our professionally filmed online courses including:
Jewellery Design and Drawing
and
Rendering and Painting Fine Jewellery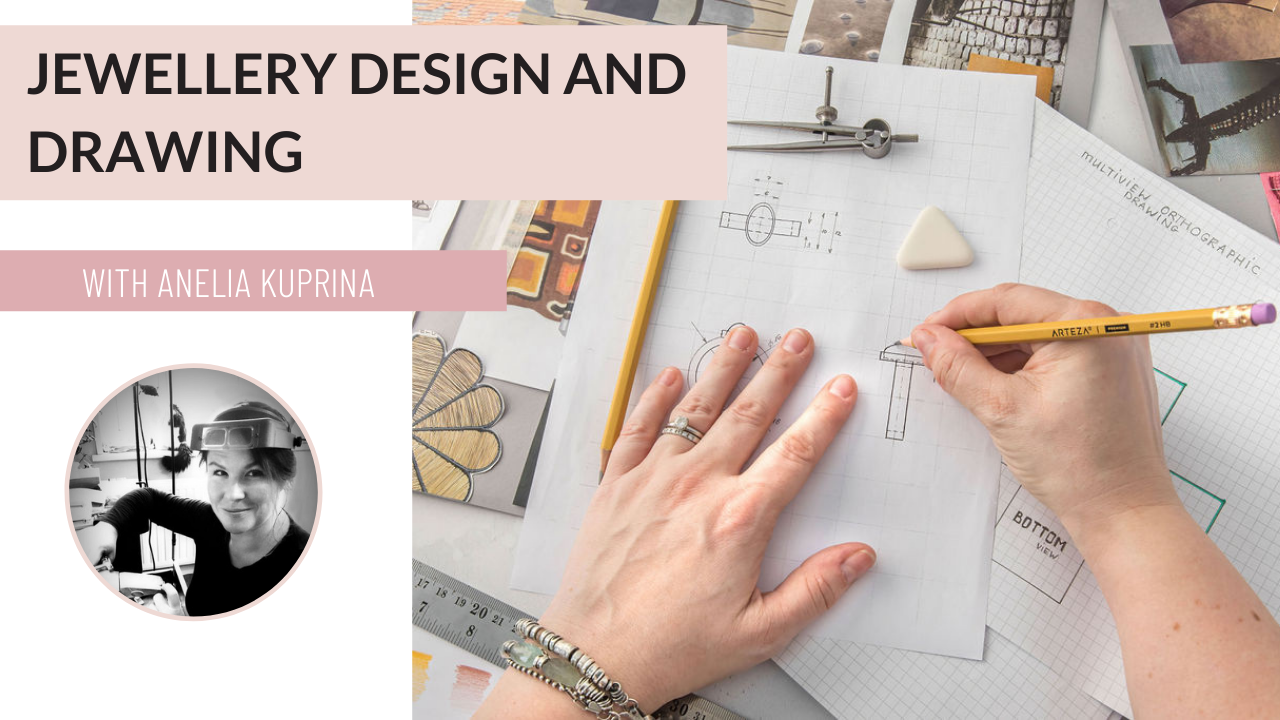 Jewellery Design and Drawing online course
If you would like to know how to take an idea and develop into a jewellery collection and also provide technical drawings for commission customers this course is for you
In this course you will learn:

How to find inspiration
How to develop an idea from inspiration to a full collection
How to test your ideas with model making
How to draw your design ideas for yourself or to show a customer (a valuable skill for commissions!)
How to do an orthographic drawing (front, top and side view)
And much more!
---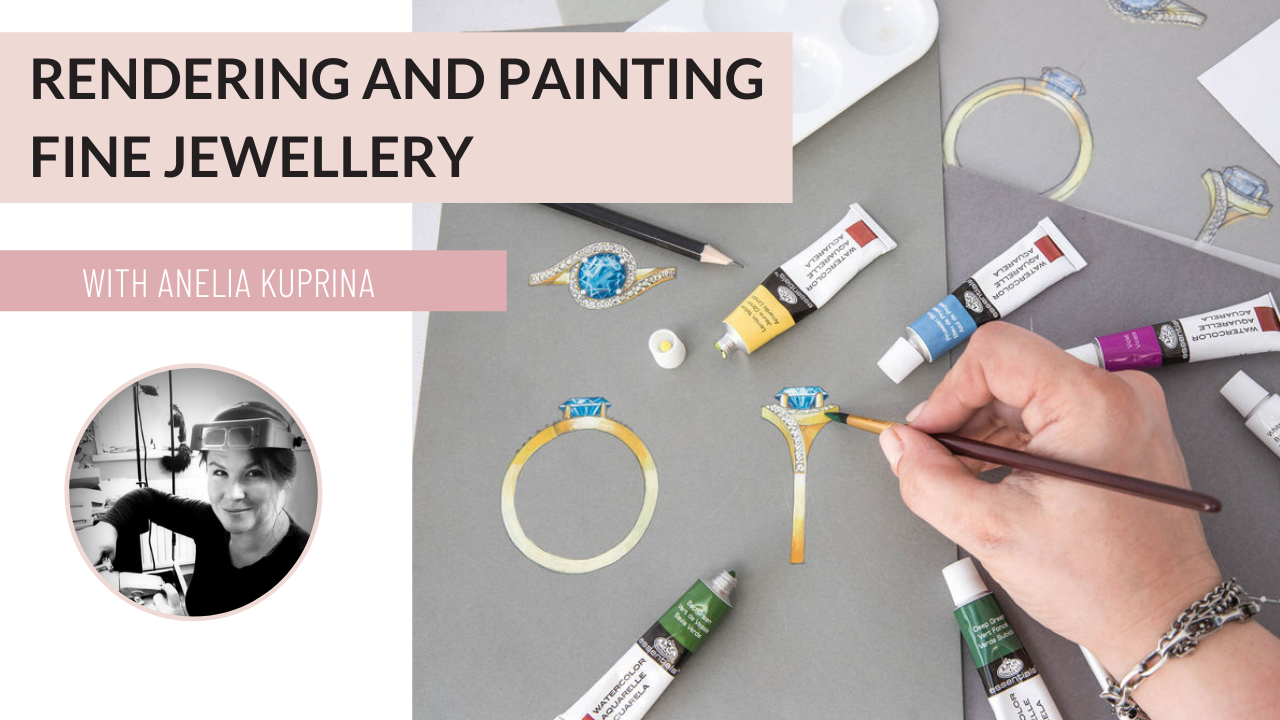 Rendering and Painting Fine Jewellery online course
Jewellery rendering is the process of creating a realistic representation of a piece of jewellery. It can be used as part of your design process, on your website or selling platform and to showcase a final design for a commission customer
In this course you will learn:
The basic techniques used to paint metals including silver, yellow gold and platinum
The basic techniques used to paint gemstones of different shapes and sizes including cabochons & small and large faceted stones
How to paint different types of settings including pave settings, claw settings and bezel settings
How to paint a gemstone necklace
How to paint a gemstone ring
---
What Will You Get?
Ongoing access to comprehensive video lessons, guiding you through all the techniques, tips and tricks
Downloadable course notes to work alongside the videos
Downloadable templates of a ring and a necklace to work through the projects (rendering course)
Full list of tools and stationery you need to create your designs (we love stationery!)
Access to our supportive community of jewellers and tutors to help you at every stage of the process
Access to the videos 24/7 - you can stop, pause, rewind and replay as much as you like
Excellent close-up shots to see what is happening in each step so you don't miss a thing
Note: these courses focus on jewellery design and rendering with pencils and paint. They do not cover computer-aided design
Your Instructor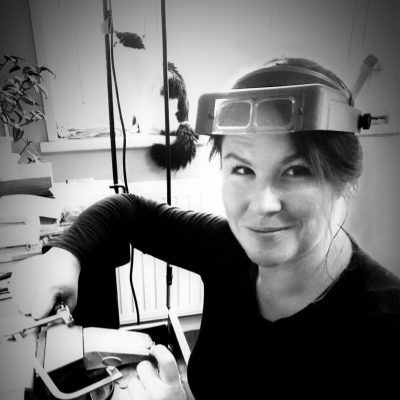 Anelia Kuprina is an award-winning independent London jewellery designer, who combines traditional hand-making techniques with modern technologies to create exquisite jewels.
In the ten years that she has spent in the industry, she has worked for leading UK jewellery companies, West End ateliers and the time-honoured workshops of Hatton Garden. This has given her the opportunity to immerse herself in the rarefied world of high-end jewellery manufacturing. This practical training has also endowed her with the skills necessary to be able to expertly manipulate precious metals and infuse meticulous precision into her work.
This course bundle is suitable for beginners.
These courses do not include any tuition on making jewellery.
These two courses work so well together - on the Jewellery Design and Drawing course you will learn how to draw your own technical drawings. In the rendering course, you will learn painting and rendering techniques.
We look forward to seeing your designs and renders!
Jewellery Design Materials List
Pencils - 1 with 0.5mm thick lead, 1 with 1mm lead

Sharpener

Eraser

Ruler

Scissors

Glue stick

Compass

X-acto blade/craft knife/scalpel

Masking tape

Graph paper

Tracing paper

Thin cardboard for making models
Rendering and Painting Fine Jewellery Materials List
Fine paintbrushes
Gouache paint
Grey/beige card or paper
Masking tape
Plate/tray for mixing paints
Bowl of water
Suppliers
You can find a list of art suppliers here
Courses Included with Purchase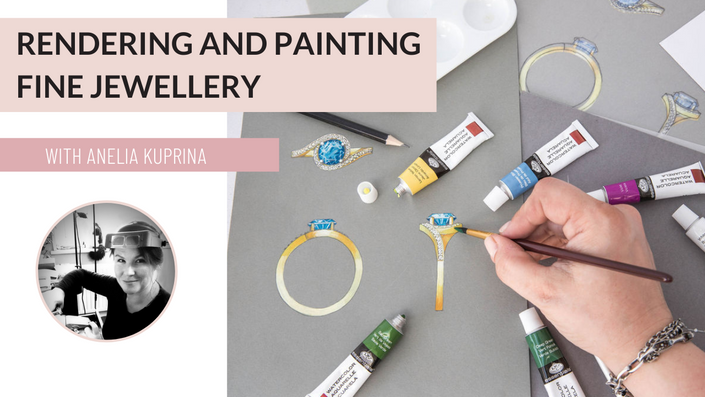 Rendering and Painting Fine Jewellery
Master the art of rendering - painting jewellery to realise your designs and elevate your commissions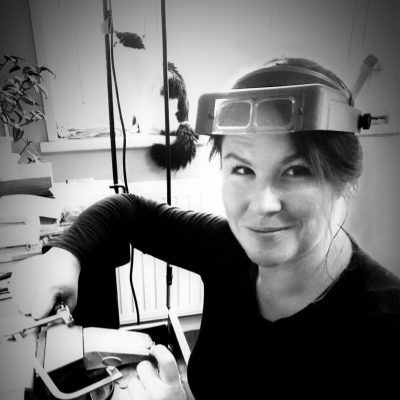 £59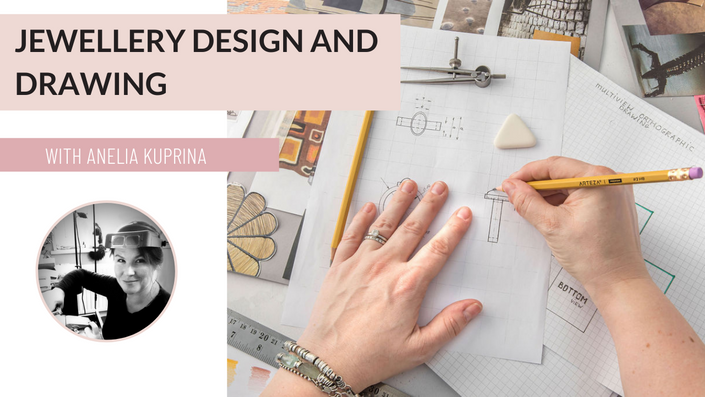 Jewellery Design and Drawing
Master the art of designing jewellery and an introduction to technical drawing in this beginners design course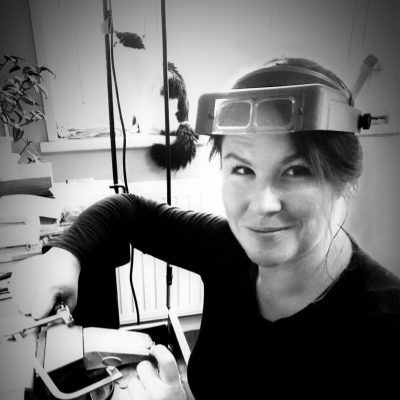 £59
Original Price: £118