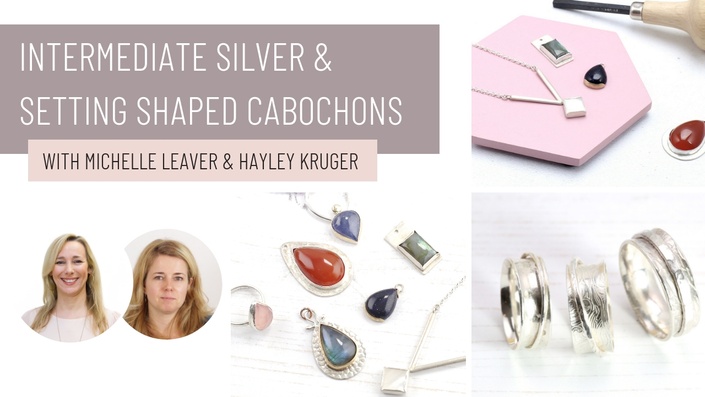 Intermediate Silver and Setting Shaped Cabochons
Take your silver jewellery skills up a level learning to make spinner rings, domed pieces and set beautiful shaped cabochon stones
Watch Trailer
Two courses in one!

Are you ready to further your skills in silver jewellery making? This intermediate level course has been designed based on feedback from learners ready to take their skills to the next level. We have been asked for stone setting courses that cover how to set irregular shaped cabochons as well as more advanced silver skills like making a spinner ring.

In this two course bundle, first learn to make spinner rings and domed silver earrings, charms or pendants in the intermediate silver jewellery class with Michelle Leaver.
Then develop your stone setting skills to set beautiful shaped cabochon stones such as teardrops/ pear shaped, squares, rectangles and more in the stone setting course with Hayley Kruger.

These two go perfectly together as a way to improve your silver jewellery techniques as well as learning how to add gemstones to your silver work.
Here are some examples of the beautiful designs you could make: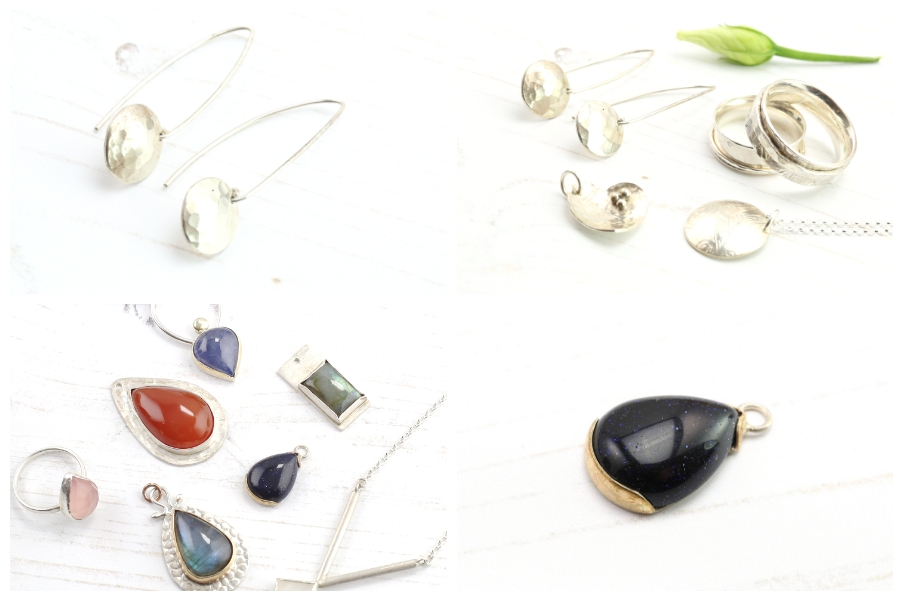 Please note, this is an intermediate level class and we recommend you take the Silver Jewellery Workshop and the Soldering Masterclass courses before completing these projects.
To make the spinner ring you need to have prior experience of soldering a silver ring. This project can be found in the Silver Jewellery Workshop.
Techniques covered include:
Developing your bench-skills of sawing, soldering, filing and polishing
Doming silver using a doming punch set
Creating custom-fit bezel settings for teardrop and rectangle stones
Making partial bezel settings for irregular stone shapes
Setting the gemstone by hand
Plus Michelle and Hayley's invaluable tips and troubleshooting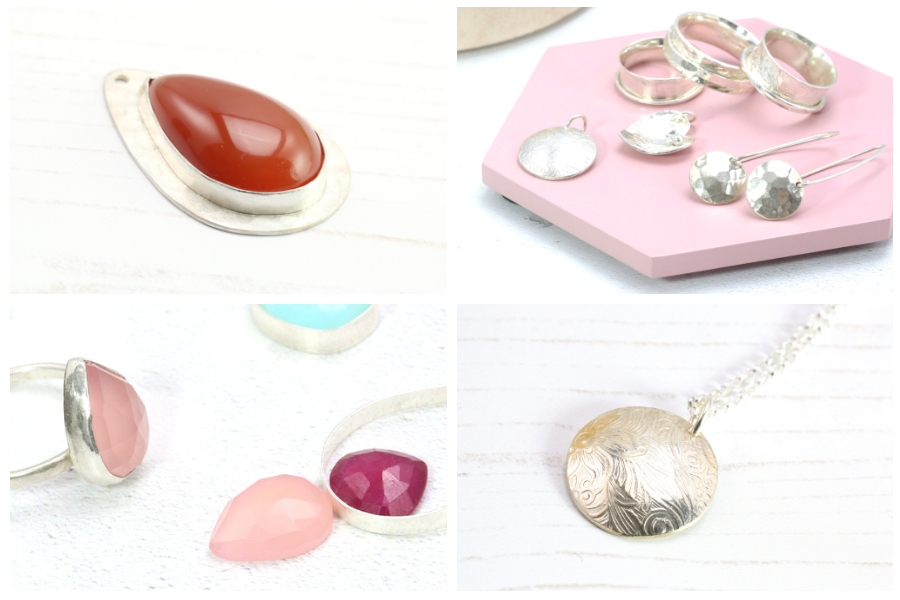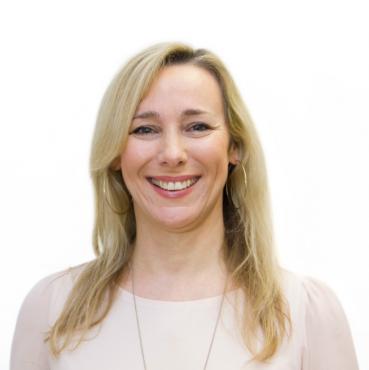 YOUR INSTRUCTORS:
MICHELLE LEAVER
Michelle Leaver is a professional Jeweller who has successfully run her own business designing and making jewellery for over 25 years. She studied design at the London College of Fashion before specialising in Silversmithing and Enamelling at the London Guildhall University (now known as the London Metropolitan and formally known as Sir John Cass.)
She specalises in silversmithing, enamel and jewellery business support and is a regular and popular teacher at the London Jewellery School.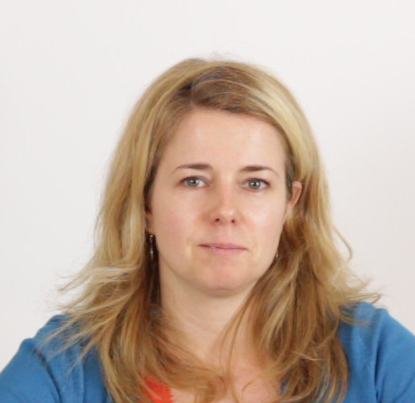 Hayley Kruger
Hayley is a bench jeweller with over 20 years of experience. She runs her own company making and selling high-end bespoke jewellery.
She has taught at the London Jewellery School for 8 years and also teaches workshops from her own studio. Having been a mentor on the London Jewellery School Diploma for a number of years she is experienced at working with students and has a great capacity to support them on their journey to professional silver and gold jewellery making.
What I do
My main focus now is dividing my time between creating bespoke and commissioned pieces for private clients, as well as consulting small jewellery business on ranges, design and production. And of course I love being a tutor for Jewellers Academy and various other organisations and community groups.
My biggest achievement so far
Believing in myself and pushing myself to learn and grow even when the hurdles seem so high. As a result I was invited to show my work at the Victoria & Albert Museum, I have been published in Vogue, Stylist and Marie Claire to name a few. And I was invited to be an ambassador for Triumph Lingerie's Women in Making campaigns 2013 and 2014.
I am inspired by
Colour is my main source of inspiration, and no matter how hard I try to use muted colours, a flash of bright fuchsia or some tropical hue always seems to find is way into my work. Recently I have found myself drawn back to my roots by being drawn to traditional techniques and skills.
Course Curriculum
Intermediate Silver and Setting Shaped Stones
Available in days
days after you enroll
Intermediate Silver Jewellery with Michelle Leaver
Available in days
days after you enroll
Stone Setting: Shaped Cabochons with Hayley Kruger
Available in days
days after you enroll
Tools and Materials for this course
Tools
Templates/stencils (round)

Scriber

Piercing saw

Saw blade - 2.0 or 3.0

Benchpeg

Beeswax

Texturing hammer e.g. ball pein hammer

Steel block for hammering

Flat metal file

Emery stick

Jewellers butane torch

Firing brick

Water to quench

Pickle

Hand drill or bow drill and drill bit around 1.1 or 1.2mm

Heavy hammer

Doming block and punch

Round nosed pliers

Flux e.g. borax

Flux paint brush

Ring mandrel

Snips for cutting solder

Hard solder

Tweezers

Wire cutters

Pliers set - flat, round, D-shaped and chain nosed pliers

Rawhide or nylon hammer
Tools for stone setting
Caliper/vernier gauge

Cutters/snips

Parallel pliers

Burnisher (Hayley used a curved steel burnisher)

Square pusher

Dopping stick or beeswax
Materials
Silver Project 1: Domed silver earrings
1mm silver sheet

Earring hooks (0.8mm wire)
Silver Project 2: Spinner ring
1-2mm thick sterling silver wire (can be round, half round or square)

0.7mm thick sterling silver sheet
Stone Setting Projects
Fine silver bezel strip either 3mm or 5mm (depending on the height of your stone)

Sterling silver sheet 0.7mm thick (or your choice of thickness)

Selection of shaped Cabochon stones
Suppliers
A list of worldwide suppliers of tools and materials can be found here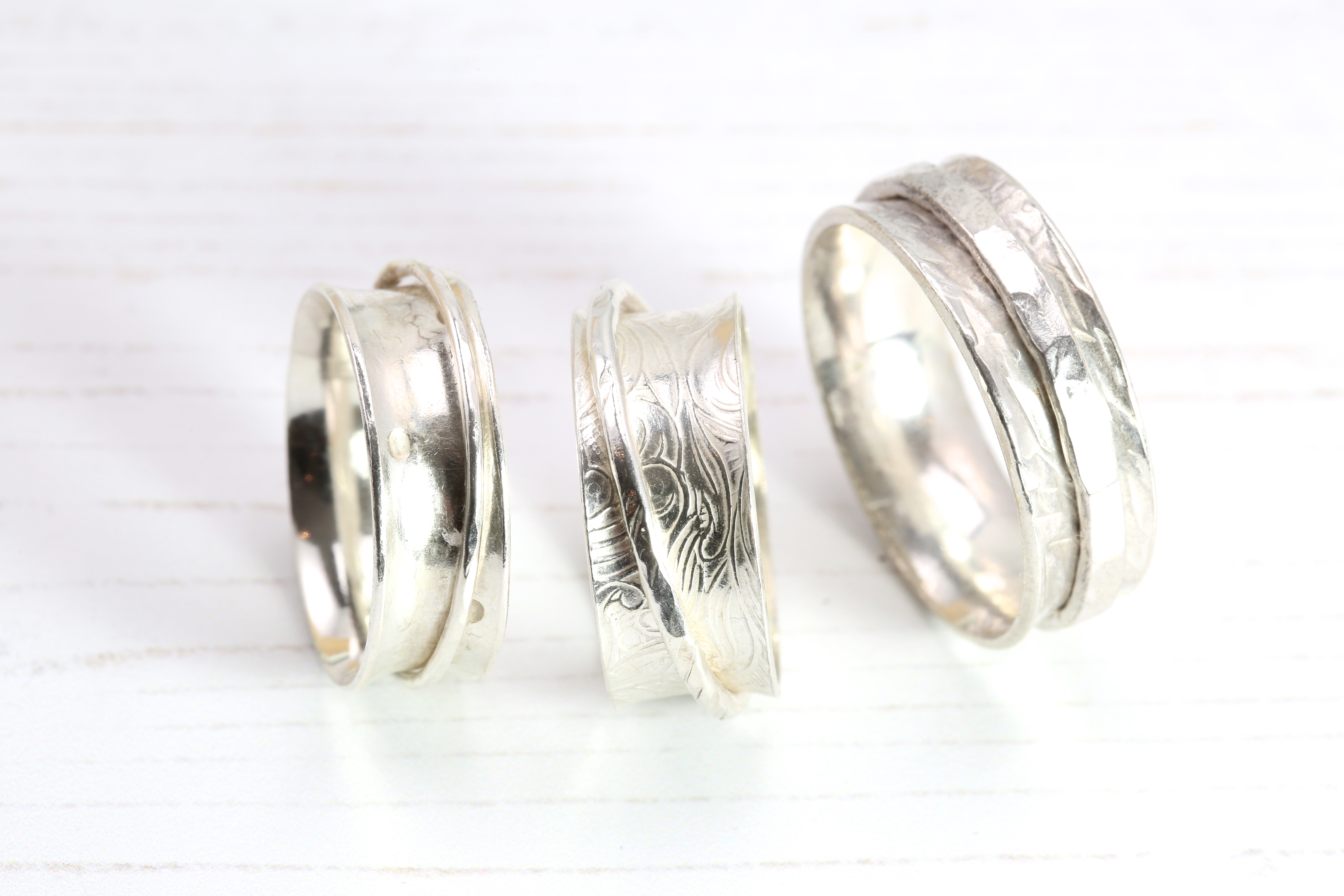 Rings by student Sandi Coryell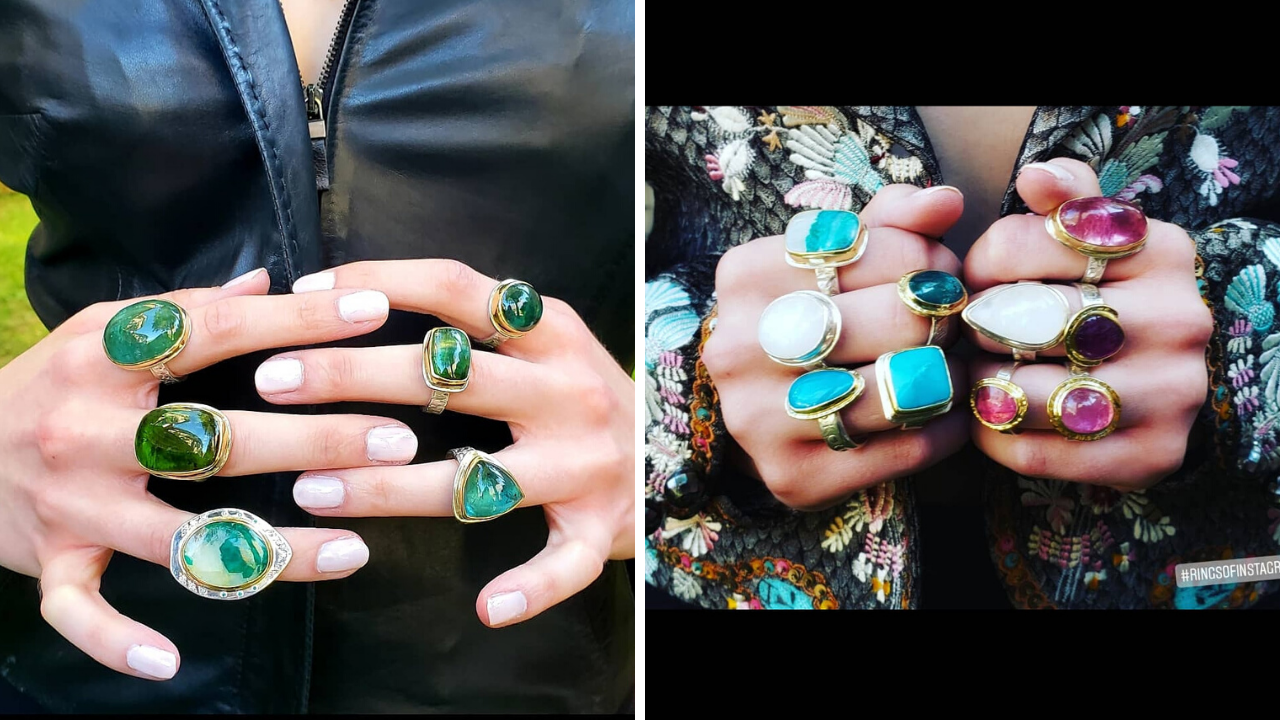 Left to right: Rosie Edridge and Kirsy Hambridge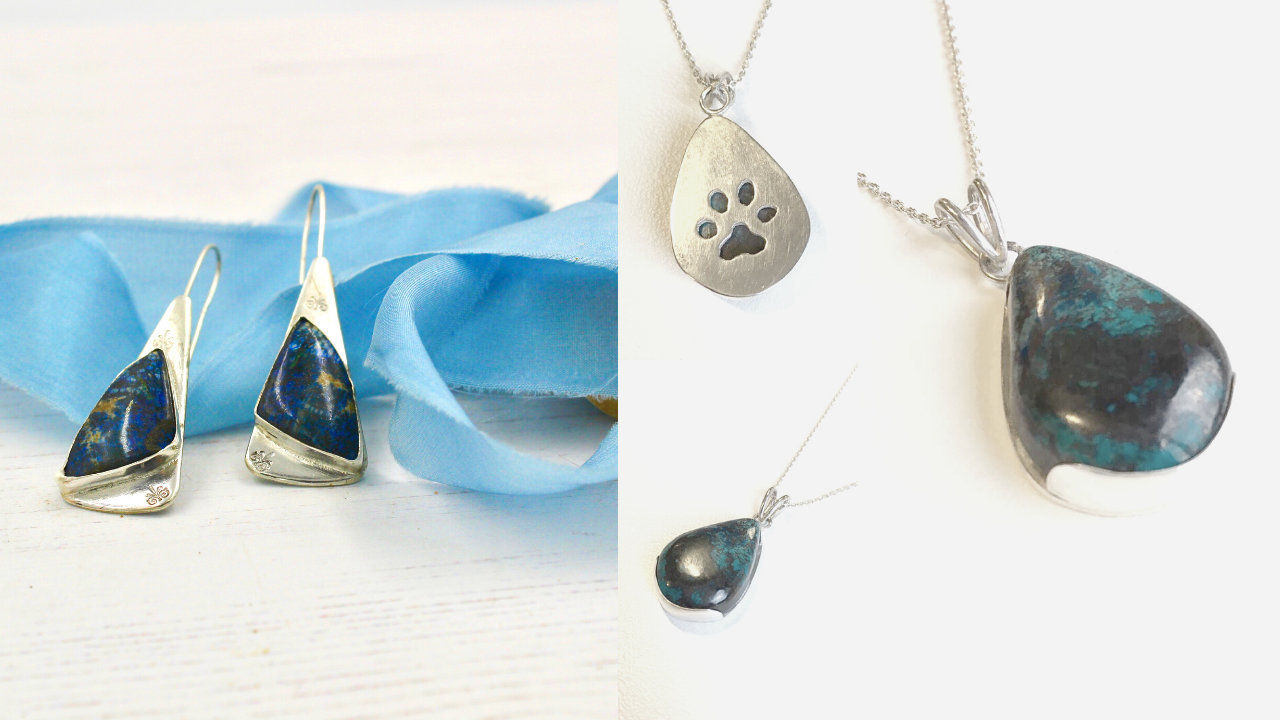 Left to right: Rosie Edridge and Hayley Small