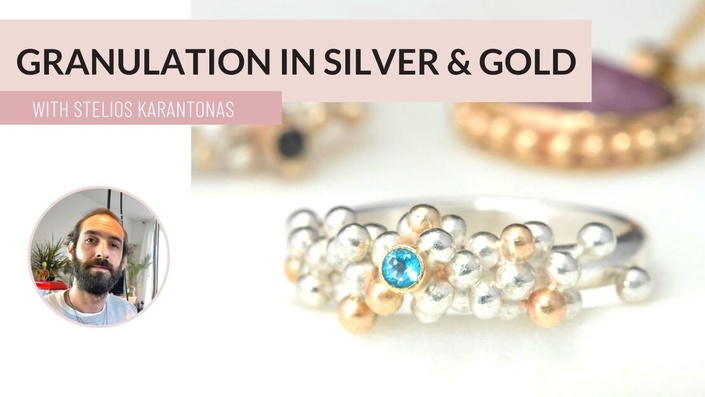 Granulation in Silver & Gold
Learn the beautiful art of granulation in silver and gold using the soldering in place technique
Enrol in Course
Learn how to create granulation in silver and gold

With this brand new course taught by expert jeweller, Stelios Karantonas, in this course you will learn:

The secret to preparing your pieces for granulation
How to create different sizes of granules in both silver and gold
Soldering your granules using the solder in place method
Work with gold and silver and mixed metals to create your own unique one of a kind designs
How to add to your piece with a tube setting for a faceted stone
How to set a cabochon stone in a pendant with a granulation halo
Projects covered in this course include making a ring and a pendant - all the skills you need to start a new collection!

Please note: this course covers the 'solder in place' method of granulation rather than the fusing method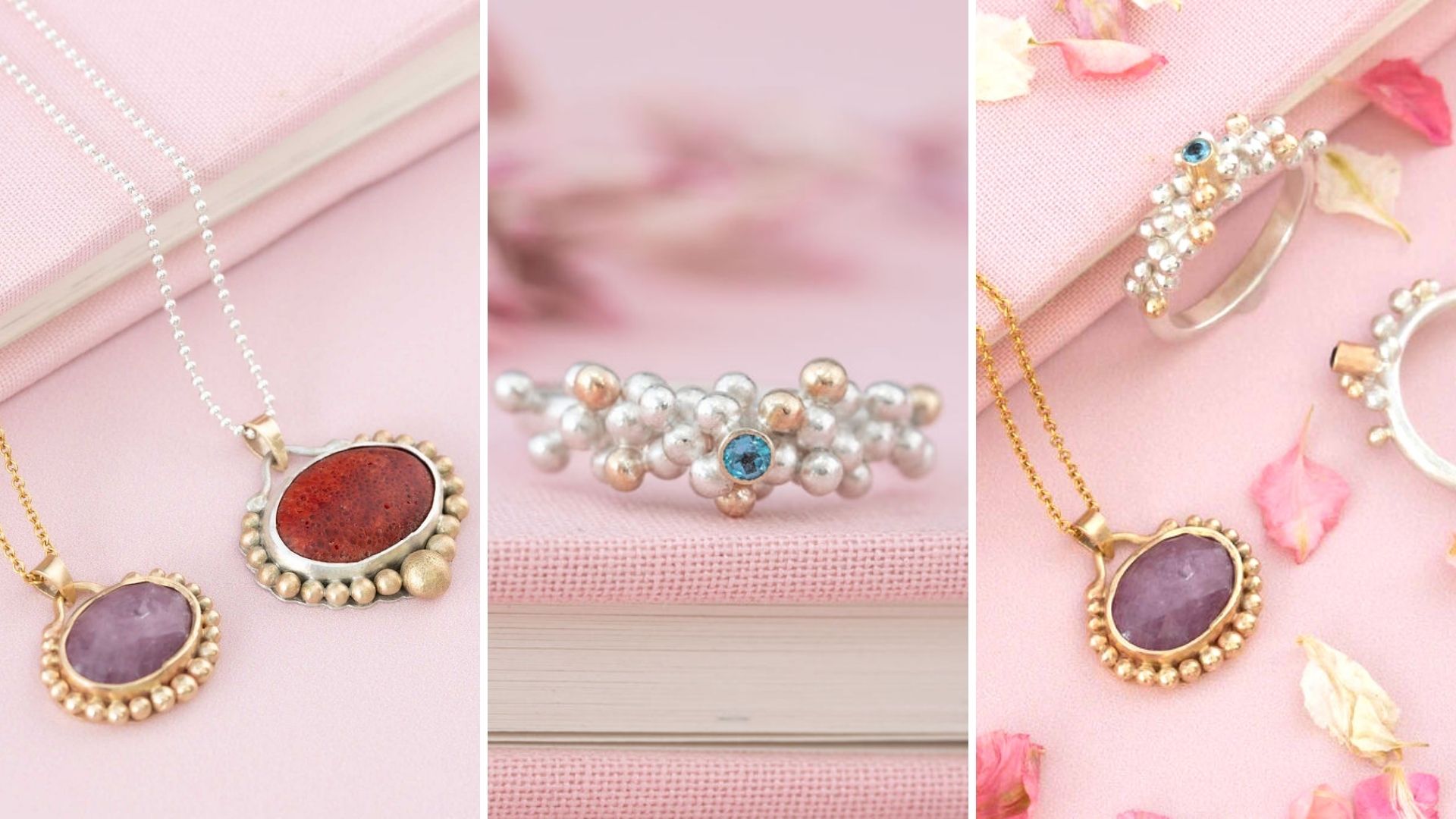 What Will You Get?

Ongoing access to comprehensive video lessons, guiding you through all the techniques, tips and tricks
Downloadable course notes to work alongside the videos
Full list of kit and materials you need to create these gorgeous designs
Access to our supportive community of jewellers and tutors to help you at every stage of the process
Access to the videos 24/7 - you can stop, pause, rewind and replay as much as you like
Excellent close-up shots to see what is happening in each step so you don't miss a thing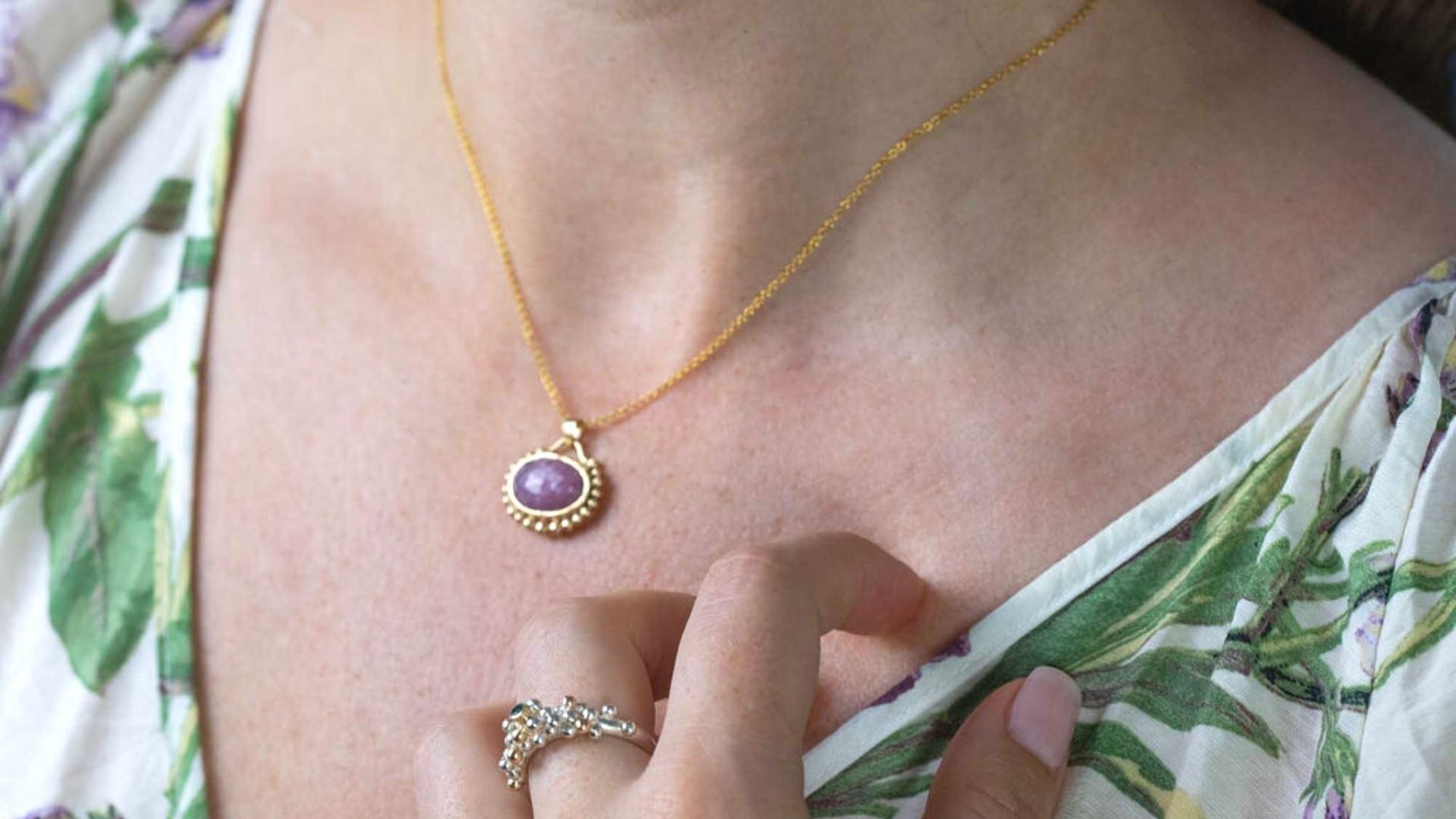 Your Instructor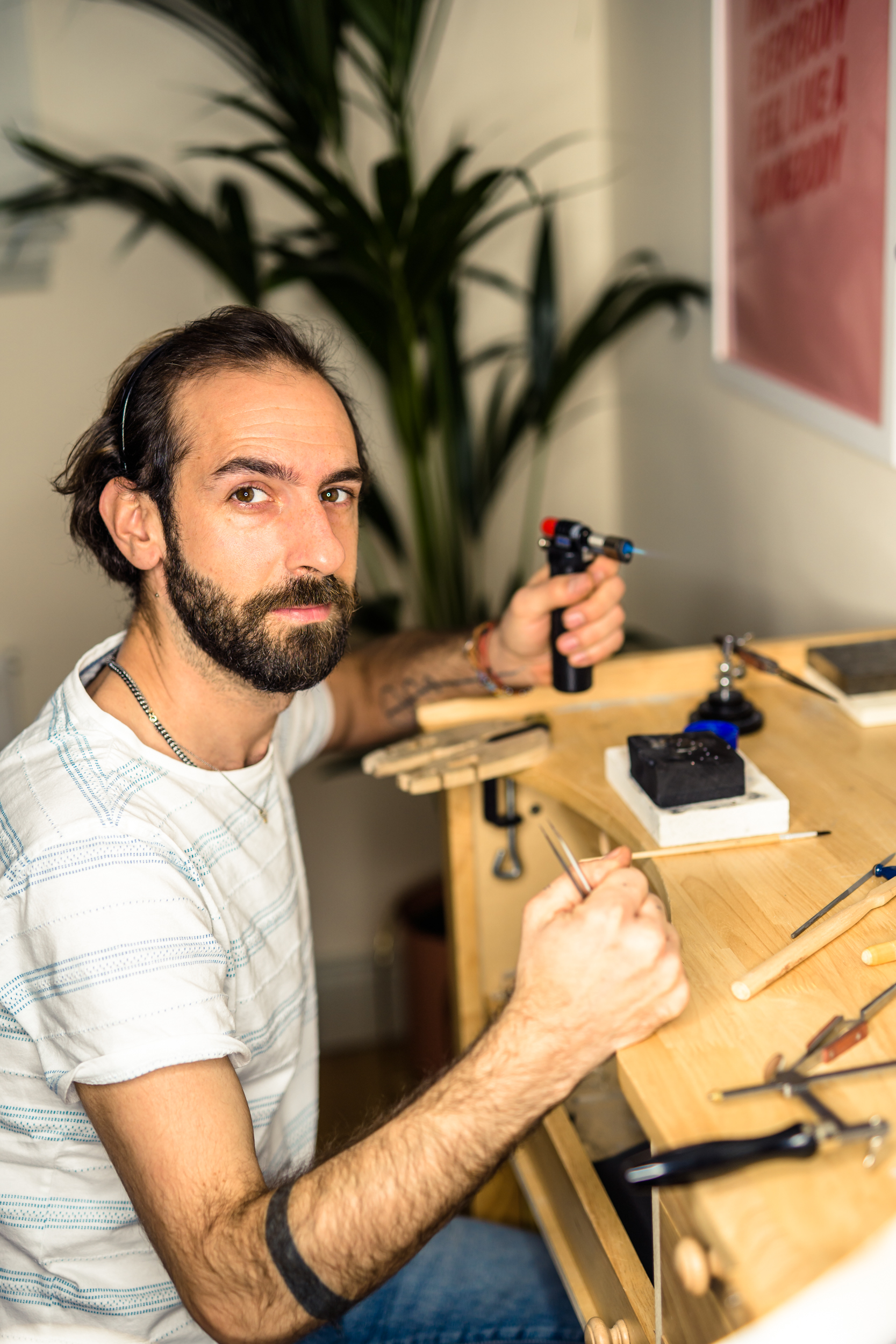 Stelios Karantonas is a Greek designer who lives and creates in London. He found his niche in jewellery manufacturing and design, receiving two scholarships and working as a freelance designer/maker in Thessaloniki and Athens, Greece.
Stelios created his own brand in London in 2014. All his pieces are hand-made in his Hatton Gardens workshop, where he constantly grows as a designer, working on a variety of gemstones, 9, 18 and 22 Karat Gold and 925 Sterling Silver.
Stelios is a passionate teacher who is extremely giving in sharing his vast knowledge of silver and goldsmithing with budding students.
Course Curriculum
Granulation in Silver and Gold with Stelios Karantonas
Available in days
days after you enroll
Course Feedback
Available in days
days after you enroll
This course is suitable for jewellers who have experience of working with sheet silver metal and are competent at soldering and basic stone setting.
If you are new to working with silver but would like to give it a try take a look at our beginners course The Silver Jewellery Workshop, the Soldering Masterclass and Stone Setting in Silver first. You will need some experience of tube and cabochon stone setting to make these pieces.
We look forward to welcoming you on the course and seeing your new creations soon

Tools required for this course
Silver jewellery making equipment
Including tweezers, jewellers saw frame and blade

Set of files - flat file, needle files

Pliers set - including round nosed and cutters

Emery stick and papers - 800, 1000 and 1200
Soldering station including:
Professional butane micro torch

Large torch e.g. max flame pro butane hand torch

Charcoal block, binding wire

A revolving soldering stand (optional)

Soldering block and heatproof mat

Safety goggles

Liquid flux and brush (Stelios uses flux soldering liquid with Klein on the label)

Tecnhoflux or other solder blocker (optional)

Jewellers pickle, plastic sieve

Small containers for your jump rings and granules
Polishing

For polishing in between the granules a dremel or similar and 3M radial discs are recommended
Yellow 3M radial discs, 80 grit on the radial mandrel
Stone setting tools
Square pusher

Bezel pusher

Curved steel burnisher

Round burr (for creating divots in the charcoal block)

2.5mm round stone setting burr (for tube setting)

Dremel or similar
Materials
Pendant Project - In this example, Stelios made a sterling silver bezel setting for a cabochon stone. All sizes for this piece will depend on the size of the stone you purchase.
A cabochon (Stelios used a coral and ruby)

0.9mm thick sterling silver for back plate (dimensions depends on size of your gemstone)

Silver bezel wire (the height of this will depend on the stone you choose)

Sterling silver wire - 0.8mm and 1mm (for making the bail and granules)

9 carat 0.6mm thick, 4mm wide strip of gold for the bail (can also be made in sterling silver)

Easy, medium and hard silver solder

Medium gold solder (for the bail. If you make a silver bail you will use silver solder)
Ring Project - In this example Stelios made a sterling silver ring from D shaped wire
D shaped sterling silver wire, 3 x 2mm. Length will depend on the ring size you want to make

Silver and gold granules

Easy, medium and hard silver solder

1 x 2.5mm faceted stone (Stelios uses sapphire and topaz)

9 carat yellow gold tube - 2mm internal dimension, 3mm outside dimension. Height of tube - 15mm
Suppliers
To source your tools and materials, take a look at our list of worldwide jewellery suppliers https://www.jewellersacademy.com/jewellery-supplie...
We recommend that you watch the course through before purchasing materials as the sizes you will need depend on your gemstone size